Strawberry
SPRING-SUMMER CAKE COLLECTION 
Maresme strawberries are the show-stopping stars of this other cake from Albert Daví's summer collection, inspired by the classic fraisier. Sheep's milk yoghurt and Opal 30.3% white chocolate give it an interesting dairy touch.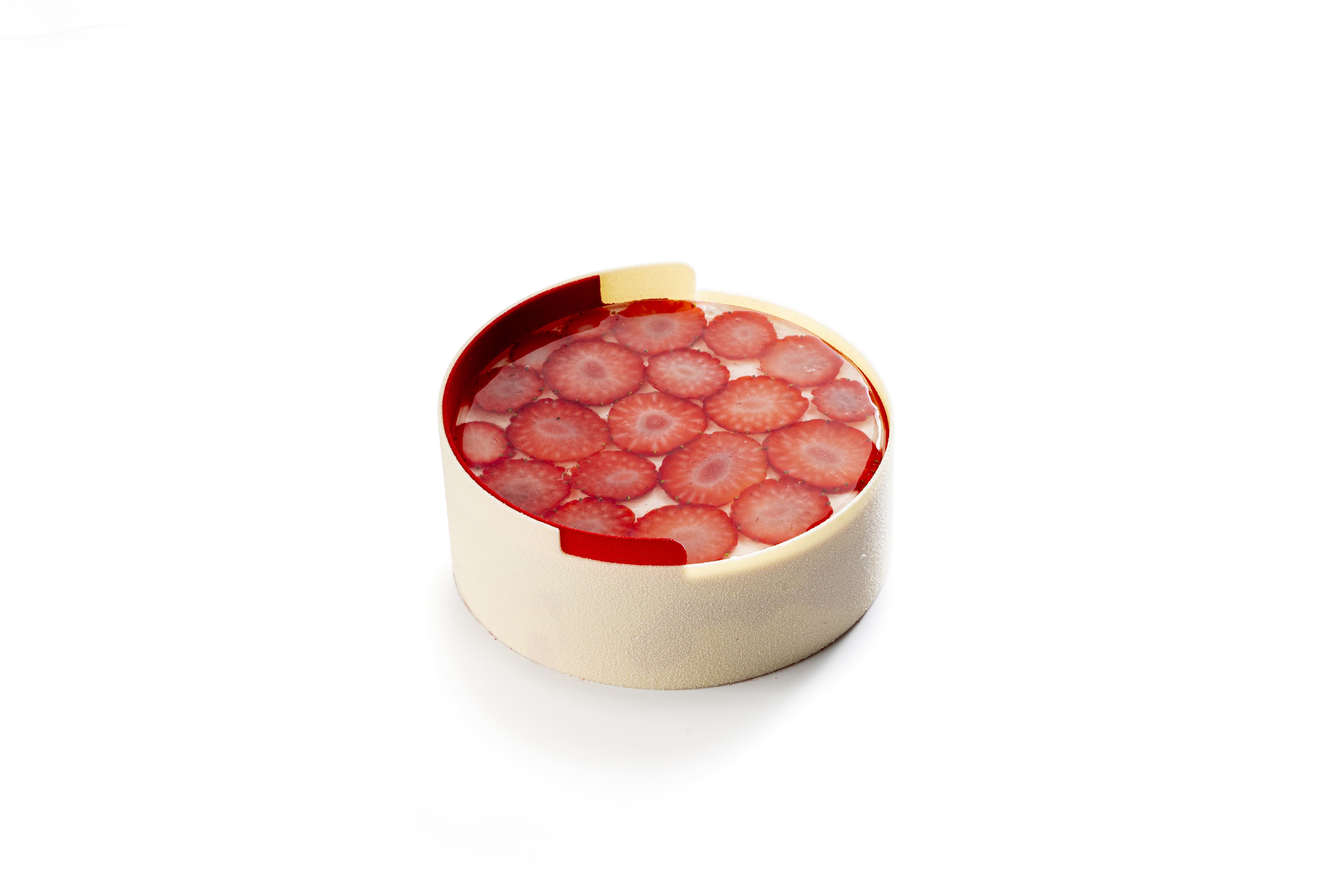 Breton sablé, 10 cm cutting ring
Ingredients
Preparation

Mix together the butter, the sugar and the salt.
Add the egg yolk and lastly the flour, the baking powder and the lemon zest.
Leave to rest in the fridge.
Spread out to 3 mm and freeze.
Cut out 10 cm discs and bake at 160°C for about 12 min.
Leave to cool and set aside.
Almond sponge cake 10 cm cutting ring
Ingredients
Preparation

Mix all the ingredients together in a food processor.
Add the bits of strawberry at the end.
Spread out to a thickness of 1 cm in a 60 x 40 cm frame and bake at 180°C from 5 to 6 min.
When cooled, cut out 10 cm diameter discs.
Strawberry compote
Ingredients
Preparation

Heat the strawberry purée, the sugar and the glucose.
Add the bits of strawberry and the raspberries and cook until they start to release their liquid.
Remove from the heat, add the violet aroma and the gelatin mass.
Leave to set in the fridge.
Measure out 60 g of compote on top of the sponge cake and freeze.
Yogurt foam
Ingredients
Preparation

Freeze dried powdered yogurt

Heat the milk to about 50°C and dissolve the gelatin mass.
Emulsify with the melted white chocolate and lastly add the sheep's milk yogurt and the freeze-dried yogurt.
Lower the heat to around 30°C and mix first with the meringue and then with the semi-whipped cream.
Violet jelly
Ingredients
Preparation

Discs of fresh strawberry

Boil the water, the sugar and the locust bean gum.
Add the gelatin mass and the violet aroma to the liquid at about 40°C.
Measure out 20 g into each mould and place the strawberry discs on top.
Assembly
Ingredients
Preparation

11.5 cm diameter silicone mould

Ribbon of airbrushed white chocolate with red cocoa butter Neutral shine for airbrushing

Measure out 20 g of the violet jelly into the base of the mould, place strawberry discs on top and freeze.
Spoon out 100 g of the yogurt mousse over the top.
Next, place the sponge cake and strawberry compote filling and press down lightly.
Measure out 40 g of yogurt mousse and close the mould with the disc of Breton sablé.
Freeze.
Remove from the mould and brush with the neutral gelatin shine.
Decorate with the chocolate ribbons.