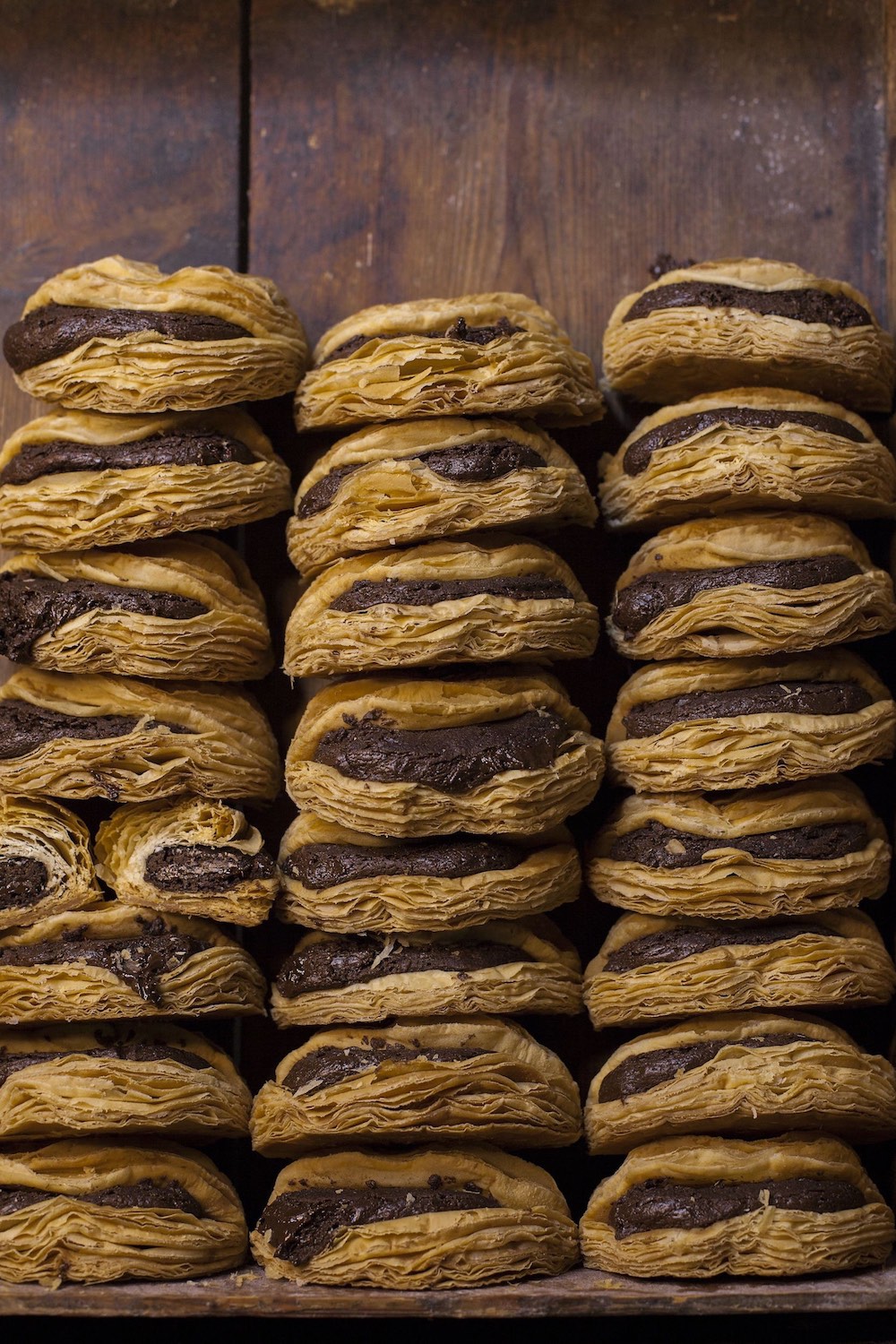 Inverted puff pastry - fat layer
Ingredients
Preparation

Mix the butter with the flour by hand until you get a flat rectangle and keep cold: this will be the layer that will go on the outside.

Knead the rest of the ingredients until you obtain a semi-elastic dough and let it rest for 20 minutes.
Inverted puff pastry - main dough
Ingredients
Preparation

Butter at room temperature

Roll out the butter from the fat layer until it is a rectangle twice the size of the main dough, which should remain inside the fat layer.

Set aside for 15 minutes in the fridge and then start to roll out and make the folds. Depending on the puff pastry you want to achieve, make the appropriate number of folds.

One double and one single fold are enough to get a puff pastry that easily gains volume in the oven and with quite a spectacular result. The fewer folds you make, the bigger it puffs up, so the end product has greater volume and fewer layers are visible. The more folds, the less it develops, with a greater number of visible layers and a more compact end product.

The symmetry in the folds and the cold resting period in each phase must be respected to ensure the piece develops correctly.
Filling and assembly
Ingredients
Preparation

Preheat the oven to 170 ºC.

Roll out the puff pastry to a maximum thickness of 4 or 5 mm.

Let the dough rest on the table and wait a few minutes for it to lose strength, as if you handle it immediately, it will reduce in size before cooking.

With a round cutter, cut one or several circles across the whole of the dough.

Fill the centre with as much Chocovic chocolate bakestable filling as you want.

Fold the piece over the filling and bake at 170ºC for 40 to 45 minutes or until done.

Always keep back the leftover trimmings of dough and join them together in a single block. Once compacted and re-rolled out they can be used to make robiols