QR cake
A WORLD OF POSSIBILITIES TO CAPTURE
Christian Escribà's latest creation goes beyond the palate.
Decorated with a customisable QR code, his QR Cake seduces with its flavour and the stories it contains.
A piece to photograph, surprise and savour.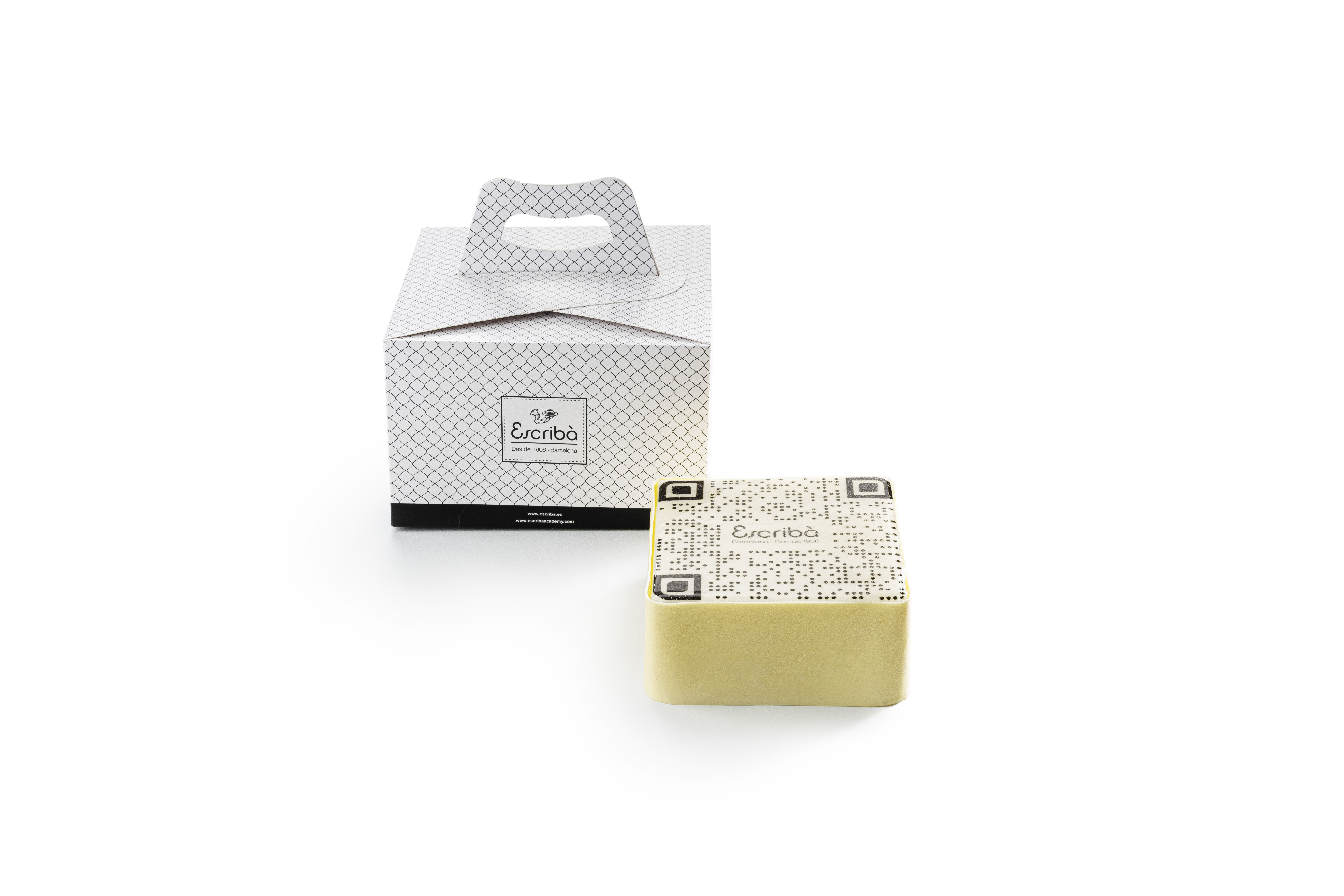 Raspberry gelée
| Ingredients | Preparation |
| --- | --- |
| | Heat the raspberry purée to 45ºC and add the xanthan with half the sugar. At 80ºC add the iota with the other half of the sugar. Bring to the boil and spread out in a tin to cool. |
Opal white chocolate mousse
Ingredients
Preparation

Heat the milk with the gelatin, bring to the boil and make a ganache with the Opal white chocolate.
Once the ganache is at 40ºC, add the semi-whipped cream and mix with a spatula without losing the texture.
Add this mixture to the meringue (made with the egg whites and sugar) until a mousse texture is obtained.
Cocoa sponge cake
Ingredients
Preparation

Whisk the egg whites with half the sugar on the one hand and then the yolks and the other half of the sugar separately.
Once the two mixtures are whisked well, fold them together with gentle movements so they don't collapse.
Add the previously sifted flour and powdered cocoa and mix gently until a homogeneous texture is obtained.
Printing the QR code
Print a chocotransfer sheet with the QR code.
Temper the Opal 30.3% white chocolate
Spread the chocolate on the chocotransfer sheet and put in the fridge.
Once cold, remove the plastic.
Assembly
Place the printed QR code at the bottom of the mould.
Add 1,100 g of Opal white chocolate mousse.
Insert the interior consisting of 350 g of raspberry gelée and 110 g of cocoa sponge cut into 13x13 cm pieces.
Smooth over.
Once frozen, remove from the mould and glaze the cake with a neutral gelatin coating.