Hazelnut, mango and truffeled chocolate sponge cake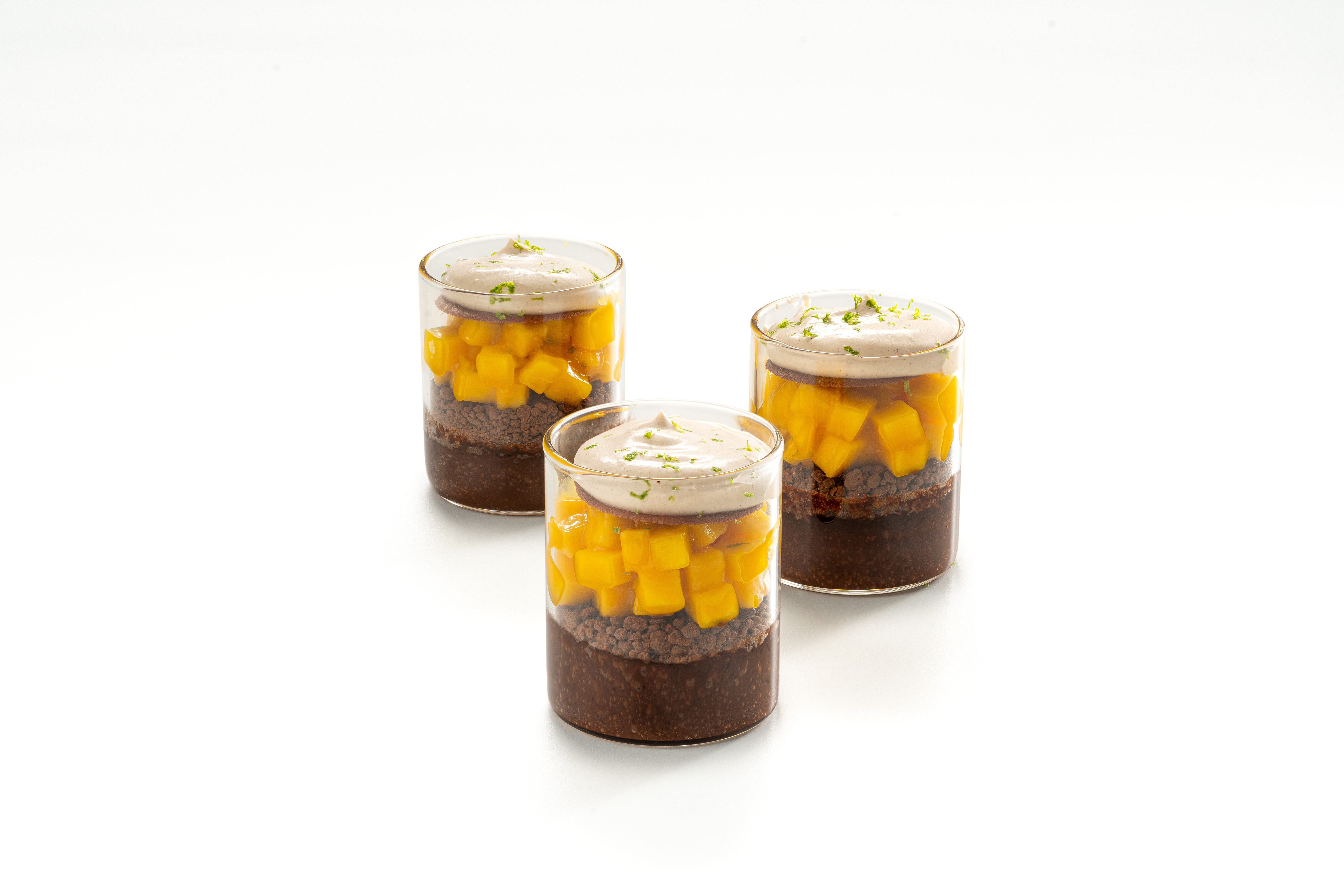 Chocolate sponge cake
Ingredients
Preparation

Mix the water with the sugar and bring to the boil.
Emulsify with the dark chocolate couverture.
Add the butter and finish emulsifying.
Cool to around 40ºC and add the lightly whisked eggs.
Lastly, add the flour carefully.
Place 50 g of the mixture into each cup and bake at 180ºC in bain-marie for about 20 minutes.
Crispy chocolate
Ingredients
Preparation

Cocoa powder Selection 22

Chop up the Lennix chocolate couverture into small pieces using a food processor.
Mix with the cocoa powder.
Mango compote
| Ingredients | Preparation |
| --- | --- |
| | Mix all the ingredients together. |
Whipped hazelnut ganache
Ingredients
Preparation

Opal white chocolate 30,3% cocoa

5:1 gelatin paste (water-gelatine)

Bring the cream and the glucose syrup to the boil.
Add the gelatin paste and emulsify with the white chocolate and the hazelnut praline.
Add the chilled cream and lastly the Frangelico liqueur.
Store in the fridge for 12 hours.
Assemble
To finish
Place 15 g of crispy chocolate on the sponge cake baked in the cup.
Arrange about 30 g of mango compote and a dark chocolate disc on the top.
Finish off the cup with a spoonful of the whipped hazelnut ganache and lime zest.