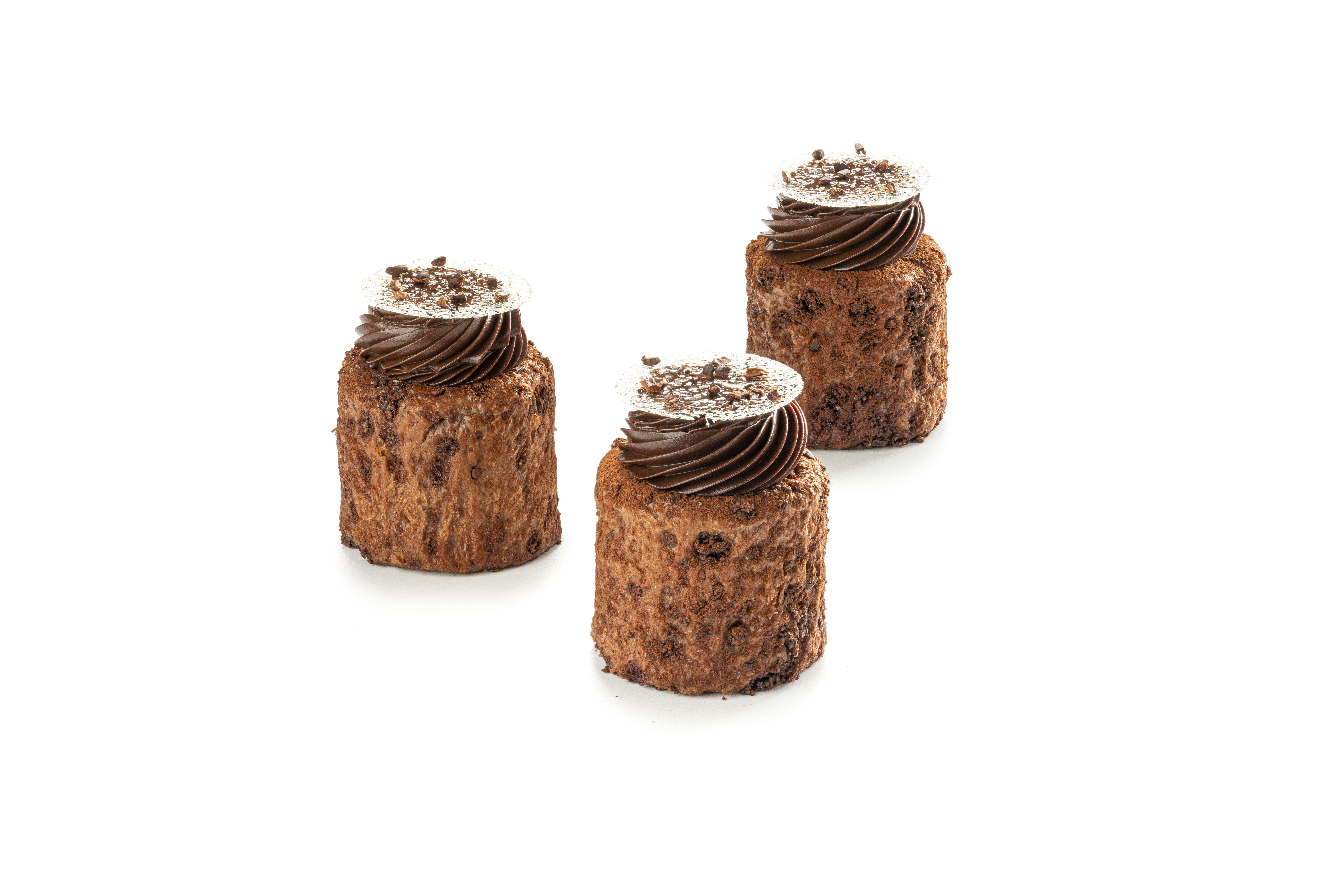 Cocoa brioche
Ingredients
Preparation

Cocoa powder Selection 22

Mix milk 2 with the cocoa powder.
Knead together all the ingredients except for the butter, which is added at the end, until the gluten mesh is well developed.
Make into a ball and store in the fridge for 12 hours.
Divide the dough into 40 g pieces and form balls.
Cocoa crumble
Ingredients
Preparation

Cocoa powder Selection 22

Callebaut® Cocoa Nibs (NIBS-S502-X47)

Cut the chilled butter into cubes.
Mix all the ingredients together in the food processor until a sandy texture is obtained.
Store in the freezer.
Chocolate ganache
Ingredients
Preparation

Boil the milk with the glucose and the butter.
Emulsify with the chocolate using the food processor, without incorporating any air.
Pre-crystallize the ganache at around 30ºC and set aside in a bowl.
Use the ganache 24 hours after making at a temperature of 18/20ºC.
Nibs crisp
Ingredients
Preparation

Chopped Chocovic cocoa nibs

Heat all the sugars to 150ºC.
Spread onto a Silpat silicon mat, leave to cool and then crush.
Sprinkle a thin layer of the crushed caramel onto a Silpat silicon mat with a template.
Melt at 180ºC.
Remove from the oven and sprinkle with chopped cocoa nibs.
To finish
Coat the brioche balls with the crumble.
Place inside the ring and ferment at 28ºC.
Bake at 160ºC for about 15 minutes.
When cool, fill with 20 g of the chocolate ganache and sprinkle the sides with cocoa powder.
Decorate with the chocolate ganache and a crispy disc with cocoa nibs