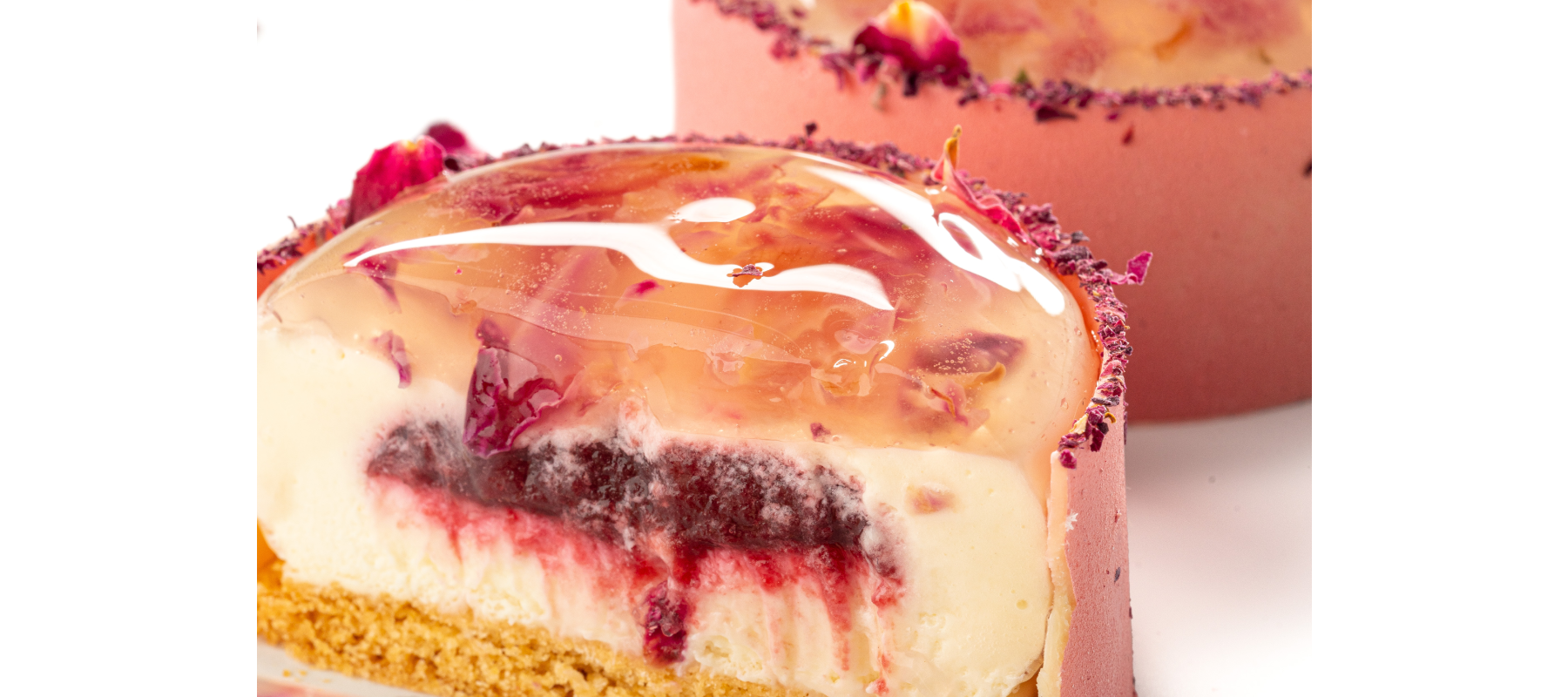 Breton sablé
Ingredients
Preparation

Mix together the butter, sugar and salt.
Add the egg yolk and lastly the flour and the baking soda.
Roll out to a thickness of 4 mm and cut 6 cm discs.
Bake at 160ºC for approximately 12 minutes.
Allow to cool and set aside.
Rose jelly
Ingredients
Preparation

Boil the water, sugar and locust bean gum.
Add the rose petals.
Put in a container and allow the rose petals to soak.
Add the gelatin mass to the liquid at around 40ºC.
Place 20 g in each mould.
Cherry cream
Ingredients
Preparation

syrup made with the cherries

Mix the cherry purée with the syrup, sugar and lemon juice.
Heat and infuse the Sakura tea. Strain.
Add the cold gelcrem and blend with the food processor until a smooth, homogeneous cream is obtained.
Measure out 10 g into the silicone mould and place half a candied cherry in the centre.
Lime yogurt cream
Ingredients
Preparation

freeze-dried yogurt powder

Calentar la leche sobre los 50ºC y disolver la masa de gelatina.
Emulsionar con el chocolate blanco fundido y por último el yogur, el yogur liofilizado y la lima rallada.
Dosificar encima de la crema de cereza unos 10 g. Congelar.
Cold infusion of Sakura tea
Ingredients
Preparation

Leave to infuse in the fridge for 1 night.
Strain.
Sakura tea mousse
Ingredients
Preparation

Calentar la infusión de té.
Emulsionar con el chocolate blanco y la masa de gelatina.
Enfriar esta mezcla sobre los 25ºC y agregar poco a poco la nata semimontada.
Neutre glaze
Ingredients
Preparation

Heat the water, the invert sugar and the glucose to 40°C.
Add the sugar, dextrose and NH pectin.
Boil for 2 minutes.
Add the citric acid and cook for another 1 minute.
Mix 250 g of neutral glaze with 50 g of water.
Heat and glaze.
Others
Ingredients
Preparation

3 cm ribbon of Opal 30.3% white chocolate
Pink cocoa butter paint
Dried rose petals
Assembly
Measure out 20 g of the gelatin into the silicone mould. Freeze.
Spoon 25 g of the Sakura tea mousse on top and insert the cherry and yogurt filling.
Close out the mould with an additional 10 g of tea mousse.
Finish closing the mould with a 6 cm diameter disc of Breton sablé biscuit. Freeze.
Remove from the mould and glaze.
Decorate with the ribbon of white chocolate and the dried rose petals.