Individual chocolate cake
MINI CAKE, MAXIMUM TASTE
Light and refreshing with delicate notes of citrus and fruit. Lluís Costa revamps one of his most successful chocolate cakes, now in miniature form.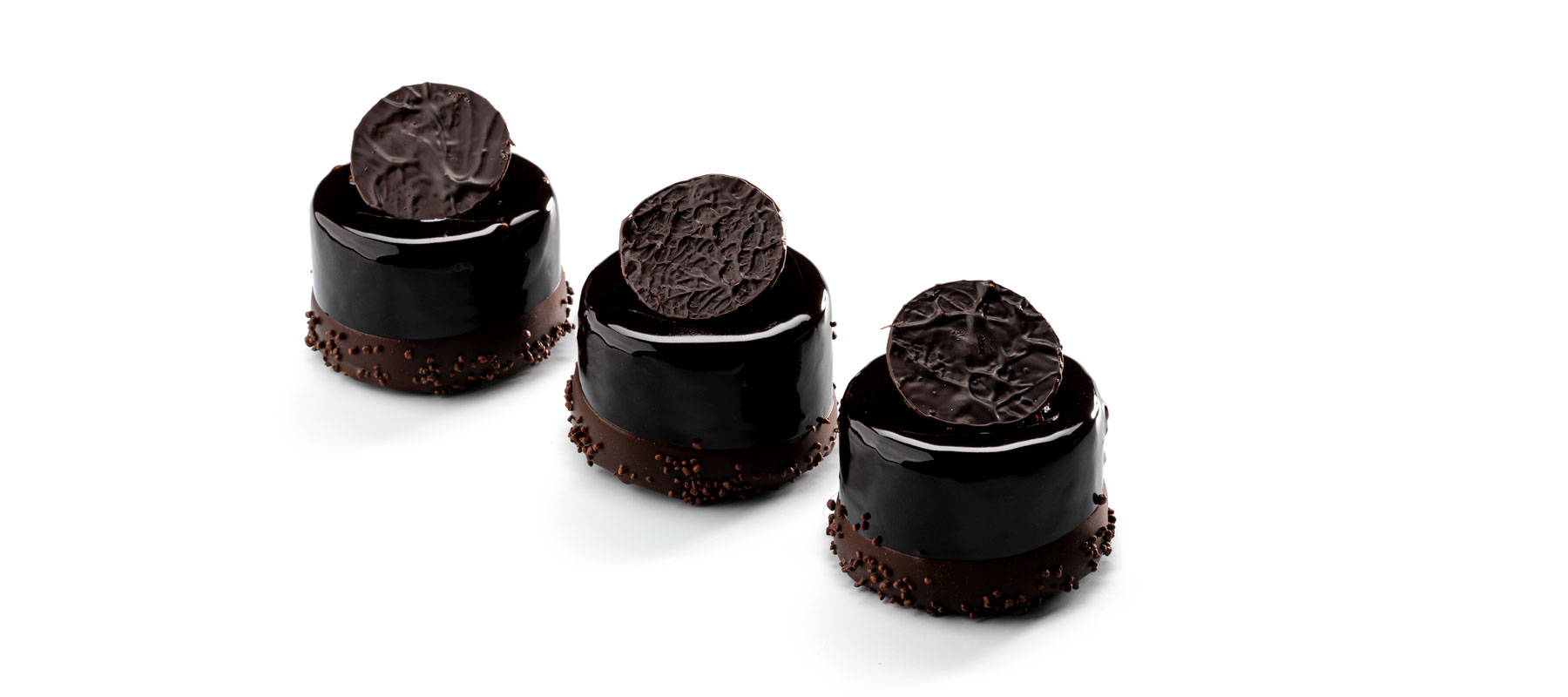 chocolate and vanilla crème
Ingredients
Preparation

Infuse the vanilla pods with the milk and cream.
Strain and mix with the yolks and syrup.
Heat up to 82 °C.
Incorporate the gelatine leaves and create an emulsion with the chocolate.
Mould with 25 g per mould, with a diameter of 3 centimetres.
exotic compote
Ingredients
Preparation

Heat the glucose up to 40 °C, together with the sugar and purées.
Once the mixture reaches 40 °C, add the sugar mixed with the pectin.
Simmer.
Place 25 g into a mould with a diameter of 3 cm.
Lennix chocolate mousse
Ingredients
Preparation

Soak the gelatine leaves to rehydrate them.
Heat up the crème anglaise and add the previously melted coating and the gelatine leaves.
Mix from the inside outwards to create a smooth, shiny emulsion.
When the mixture reaches 42 °C, add the whipped, foamy cream.
chocolate sponge cake
Ingredients
Preparation

Cocoa powder Selection 22

Beat the marzipan together with the eggs and sugar.
In a separate bowl, mix together the cocoa with the flour and baking powder.
Melt the cocoa paste and create an emulsion with the butter.
Once the eggs have been well beaten, incorporate the sifted ingredients, mix gently and add the mixture to the butter and cocoa paste.
Roll out into sheets with a thickness of 1 centimetre.
Cut into discs with a diameter of 3 centimetres.
Bake at 200 °C for 12 minutes.
assembly
Pour the chocolate mousse into a ring with a diameter of 5 centimetres.
Insert the frozen disc of chocolate crème and the gel.
Add a little more mousse and finish off with the chocolate sponge.
Once the tart has been well frozen, glaze it and decorate.