Chocolate toffee tart
A LUXURY TARTLET
Roselyn Costantino pays homage to chocolate lovers with this brilliant tartlet, which combines smooth and crunchy textures with the intensity of dark Tobado chocolate, 64.5 %, and an exquisite touch of toffee.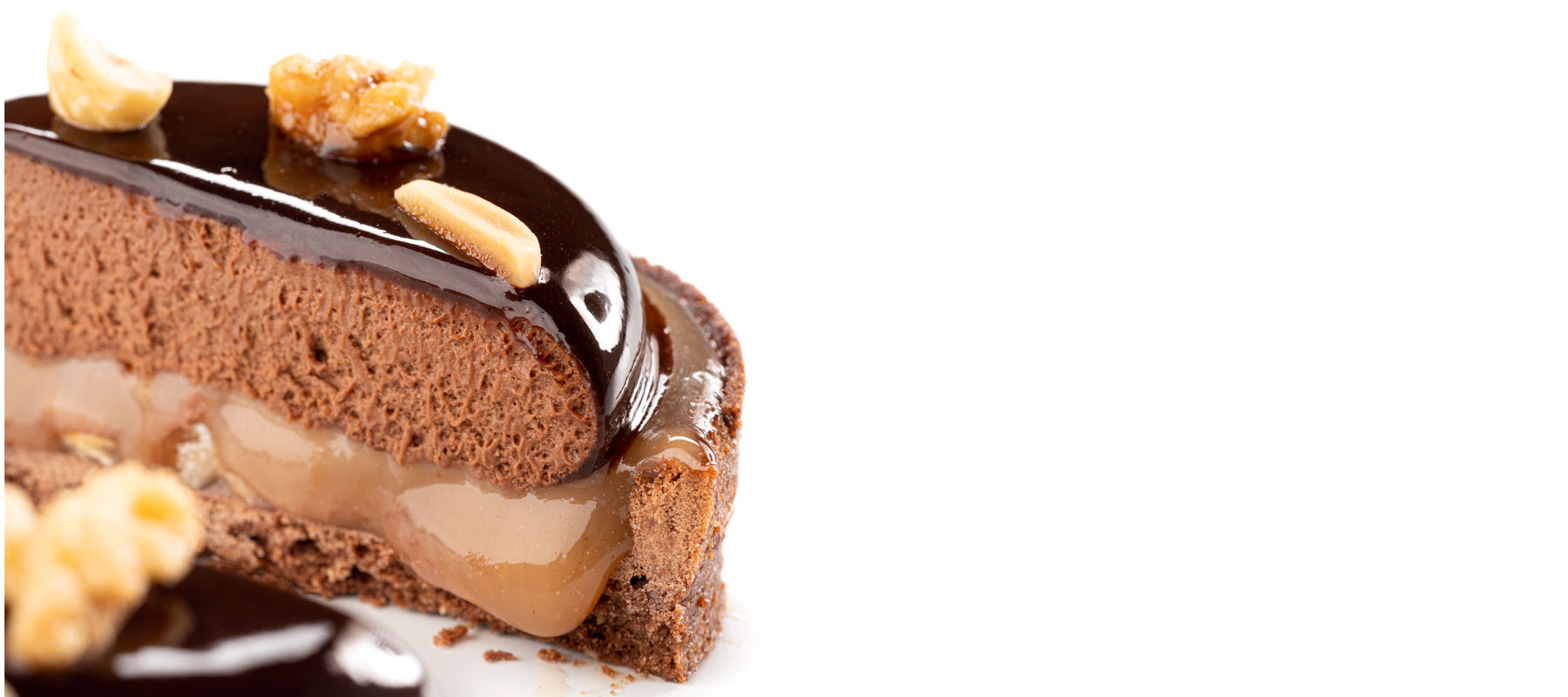 chocolate sablé base
Ingredients
Preparation

Mix the softened butter and sugar together with a paddle attachment on a food processor. Do not beat the butter.
Add the eggs and salt a little bit at a time.
Mix together the almond flour, cocoa and two parts flour. Roll out to 3 mm between two sheets and chill in the fridge.
Bake at 180 °C for 12 minutes.
glaze
Ingredients
Preparation

Boil the water, cream and glucose together for 1 minute, then add the condensed milk and mix well.
When the mixture is homogeneous, add the cocoa and sugar.
Finally, the gelatine (17x5: 85 ml of water; allow it to create the gelatine mass): Heat up the gelatine, add the rest of the ingredients and blend using a blender.
Leave to chill in the fridge for 12 hours and glaze at 28 °C-30 °C
chocolate mousse
Ingredients
Preparation

Heat up 150 g of cream, pour over the Tobado chocolate and stir until it melts, then add the gelatine.
Semi-whip the rest of the cream, then fold into the mixture and place into moulds.
toffee
Ingredients
Preparation

Almonds / hazelnuts / nuts

Caramelize the sugar until it is golden brown, then at this point add the butter; then add the warm cream.
Add the nuts.
decoration
Fill the chocolate sablé base with the almond toffee.
Leave to cool.
On top of this, place the chocolate mousse, previously coated with the chocolate glaze.
Decorate with nuts and chocolate chips.