Peach, cereal & Jasime tea
A DESSERT THAT TASTES LIKE BREAKFAST
Muesli, fruit, tea, chocolate... Albert Daví was inspired by the ingredients of a gourmand breakfast to create a combination bursting with flavour and textures.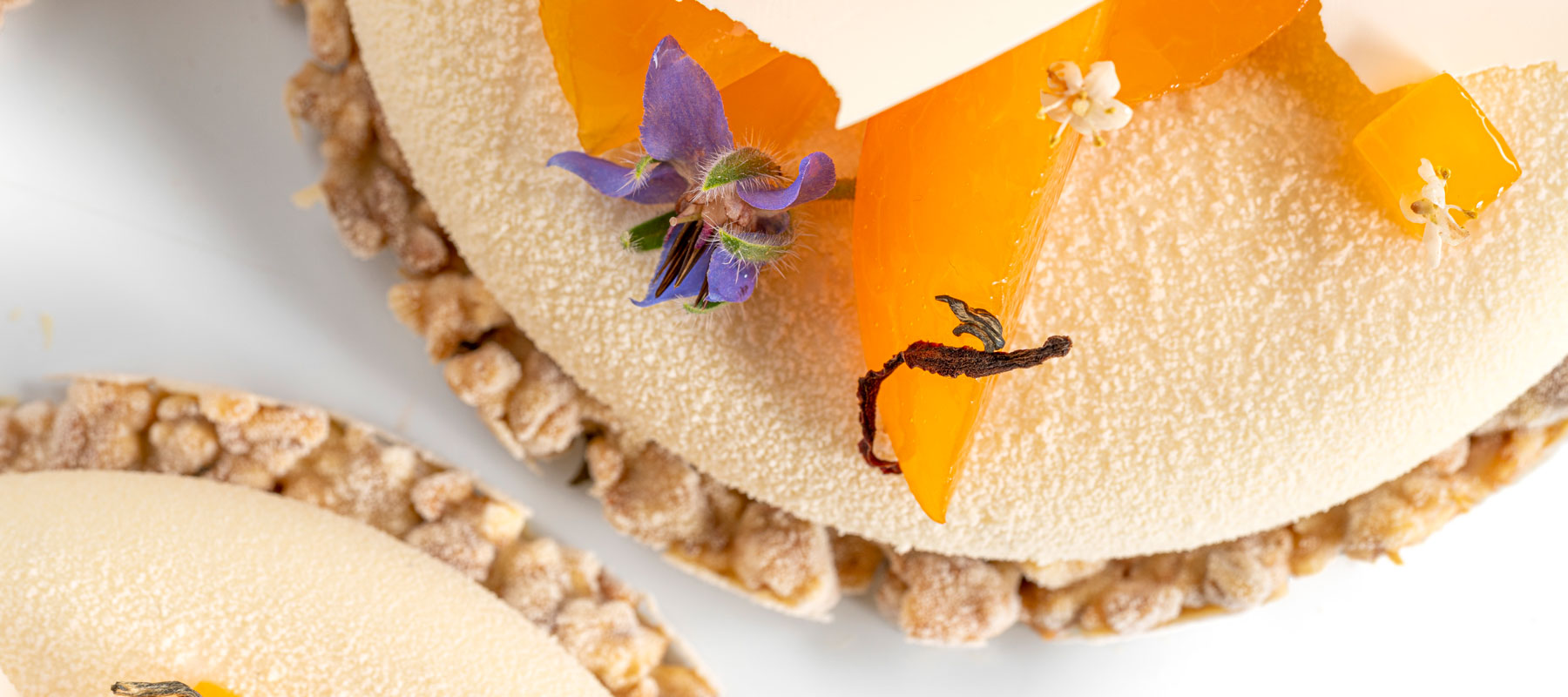 muesli crunch (ring with 12 cm diameter)
Ingredients
Preparation

Cut all the ingredients to a similar size.
Gently heat the water, agave syrup and coconut oil.
Mix all the ingredients together and cook at 160 °C for approximately 12 minutes, until it is crispy and golden

Pure roasted almond paste

Melt the white chocolate and mix with the rest of the ingredients.
Split into 50 g portions and place into rings with a 12 cm diameter, and roll as thinly as possible.
osmotized peach
Ingredients
Preparation

Bring the water and sugar to the boil.
Once cooled, add the Khuri and set aside.
Cut the peach into the desired shape and fill to 90%.
peach compote (ring with 8.5 cm diameter)
Ingredients
Preparation

Bring the peach purée to the boil with the sugar, lime juice and inverted sugar syrup.
Add the diced peach and cook until soft.
Remove from the heat and add the gelatine mass and lime zest.
Mash together and place 40 g into each ring. Freeze.
jasmine tea mousse (10cm diameter silicone mould)
Ingredients
Preparation

Leave to infuse in the fridge overnight.

Bring the brewed tea to the boil.
Create an emulsion with the white chocolate and gelatine mass.
Allow the mixture to cool at around 25 °C and, little by little, add the semi-whipped cream.
Place 40 g into the interior of each mould, and top up with 35 g of mousse.
Freeze.
white paint
Ingredients
Preparation

Mix all of the ingredients together using a hand blender and strain.
Heat it to 45 °C and pipe onto the frozen part.
other
Ingredients
Preparation

jasmine flowers and elderflower

Use a disc of the muesli crunch to create the base, previously piped with the white paint.
Coat the disc of frozen mousse with the paint and place on top of the crunchy base.
Distribute slices of osmotized peach on top and decorate with the slabs of white chocolate and flowers.