Chocolate Tacos
Johan.B is a young pastry chef, ambitious and innovative with his creations. His participation to the TV show "Le Meilleure Pâtissier" in 2015 whetted his appetite to revisit classic pastries such as the tiramisu, the cheesecake and the macaron, but presenting them with different shapes and textures.  He rigorously strives to ensure that his creations are original; his tacos are an an example of this, showcasing a new way of presenting a chocolate tart.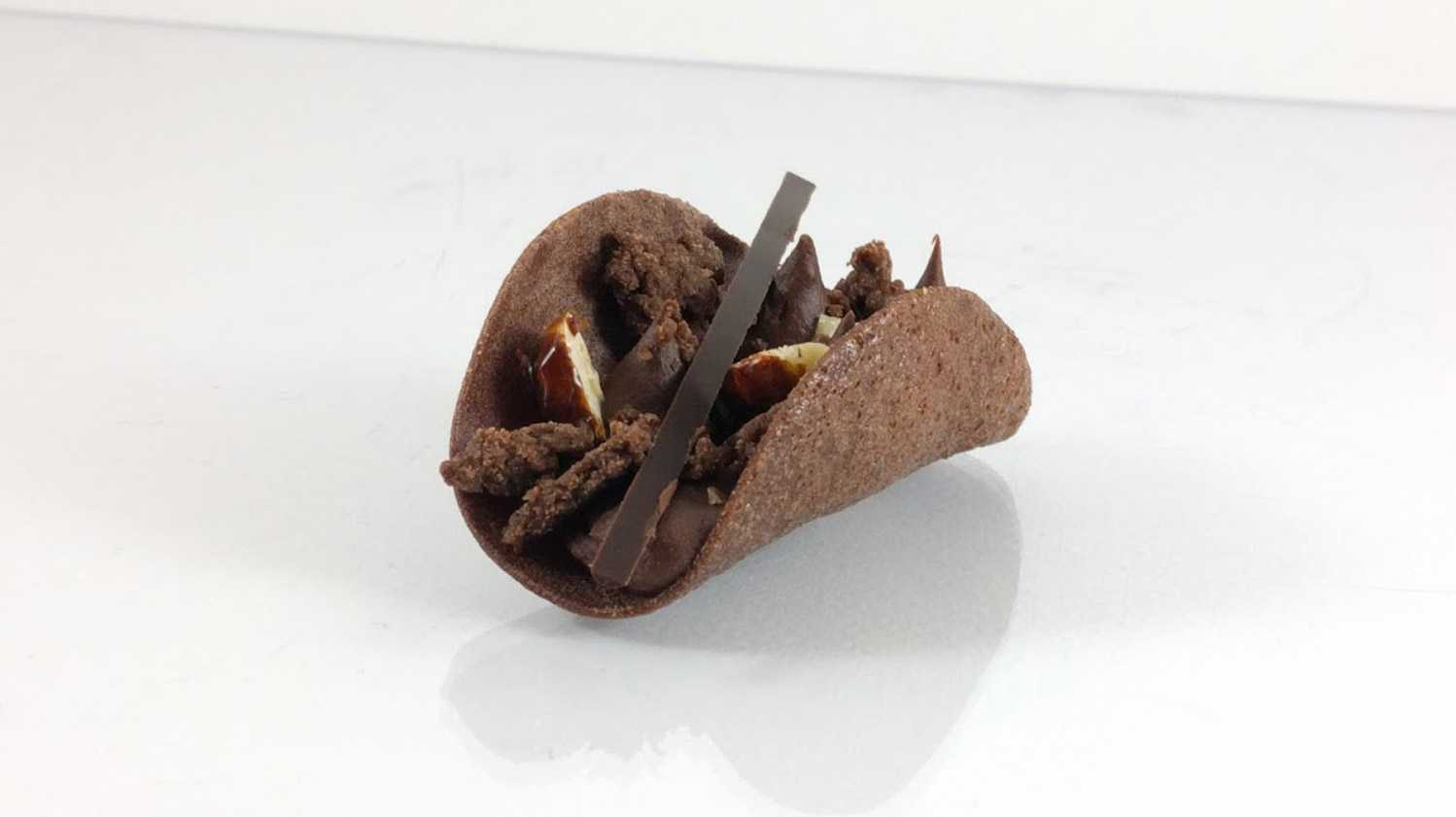 Chocolate tacos
Ingredients
Preparation

Melt the water with the butter
In a food processor, mix the sugar, egg whites, salt, flour and cocoa powder.
Add melted butter and water and mix again.
Pour a thin quantity on a baking tray
Bake at 140°C/280°F during ~16 min
Quickly after baking, using a round pastry cutter to make 8-10cm circle and drop on a tube like pastry rolling pin until it dry.

Dark chocolat ganache
Ingredients
Preparation

You can also recplace the 100 g Mexique by 100 g Alto el Sol or 100 g Saint-Dominque

Optional : add pinch of cinnamon

Boil shortly the whole cream with the butter.
Wait for 20 sec and pour on the chocolate and mix.
Remove from heat and store in a cool place during a few hours.
Chocolate Streusel
Ingredients
Preparation

Optional : add pinch of cinnamon

In your food processor, mix the soften butter, sucre, then add the flour, cocao power and pinch of cinnamon.
Disperse on a baking sheet and cook during ~13min at 160°C/320°F.
Caramelised hazelnuts
Ingredients
Preparation

Make a caramel with your brown sugar, drop the hazelnuts and stir until the caramel covers all nuts.
Remove from heat and keep at room temperature.

Cocoa foam
Ingredients
Preparation

Let brew at least 6h the cocoa grué in the whole milk stored in the fridge.
Filter to remove the cocoa grué, add the soy lecithin and mix to add air and cream a foam.
Use as soon as possible.

Presentation
Inside a chocolat tacos, pipe some chocolate ganache , drops some streusel silvers, caramelized hazelnuts and finish by a tea spoon of Cocao foam.