Bensdorp cocoa unlocks new dimensions of culinary creativity
Bensdorp cocoa unlocks new dimensions of culinary creativity
The Bensdorp Masters in Cocoa Chefs Days
Our bi-annual Chefs Days are designed to showcase the limitless possibilities of Bensdorp's diverse range of cocoa powders and specialties. The technical cocoa expertise of our Cocoa Application team is combined with our chefs' artistry and imagination to explore the possible applications of our cocoa products and dream up new recipes to inspire our customers.
"We don't just sell to our customers, we join them in a journey of discovery and co-creation with our products. We want them to take our knowledge, our products and our inspiration, and use these to spark their own imagination and invent new creations to delight their end consumers." Leanne de Muijnck, R&D Director Global Cocoa
Putting cocoa powders on the menu
Generally, chefs are well accustomed to working with chocolate. Cocoa powders and their huge variety of applications are often overlooked. This is a trend we predict will change as cocoa becomes an increasingly popular vegan, dairy and sugar free option, allowing people with dietary restrictions and preferences to enjoy some chocolate-flavored indulgence.
On our most recent Chefs Day, it was the Cocoa Application Lab team's job to train the chefs to work with our Bensdorp cocoa powder specialties. This gave them the knowledge and skills necessary to unleash their creativity, push boundaries and unlock the full potential of our unique cocoa products.
At Bensdorp, we are masters in crafting cocoa powders of superior flavor and color, and our exquisite range of products and specialities holds the potential to unlock unique sensory experiences. 
Our signature Origin Cocoa Powders are single origin, meaning they are made from cocoa beans grown in a specific country, region or sometimes even an individual plantation. Taste, quality and characteristics are influenced by different soils, climates and farming techniques, leading to a wonderfully varied collection of powders with a wide range of uses.
We have also recently launched our revolutionary Natural Dark cocoa powder which maintains the authentic, rich cocoa flavor and darker color favored by consumers and chefs while being 100% natural – an accomplishment previously considered impossible.
The challenge of Chefs Day, therefore, was not just to compare cocoa powders to chocolate. It was to unlock the unique characteristics of the Bensdorp product portfolio; to investigate each individual product's potential to influence the flavor, appearance and composition of culinary creations; and to inspire our customers to join us in the exploration of cocoa powders. 
New twists on old classics
The chefs experimented with traditional recipes including cookies, ice cream, cakes and brownies, exploring how the cocoa powders interacted with the other ingredients. For instance, how they influenced moisture levels in cake batter, their effect when added to glazes and their impact on flavor profiles.
They looked at balancing the alkali taste of our Black Cocoa powder with the acidity of lemon in a marble lemon cake, and also analyzed how different cocoa powders influenced the taste, color and texture of financiers.
Our cocoa chef, Joel Perriard chose to replace chocolate in ice cream with Natural Dark cocoa powder to add a rich, deep flavor complemented by praline and crunchy caramel for added texture. He also created gianduja squares embellished with our unique Dusting Cocoa powder, designed to stay dry and add a smooth matte finish to confectionery. 
"The dusting cocoa powder adds visual appeal and there's no danger it will form a crust, the texture remains smooth for as long as you need it to."
Chef Joel Perriard.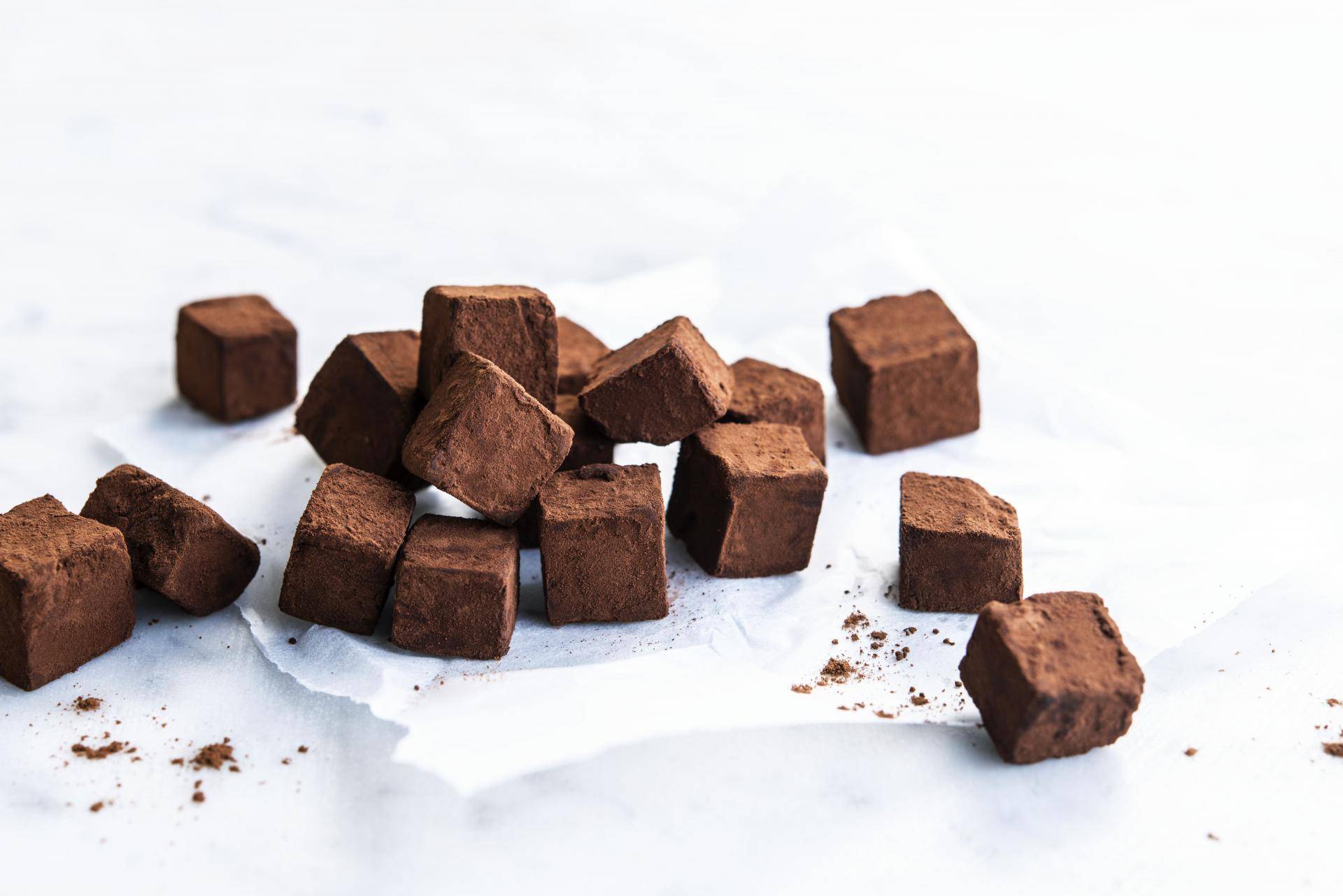 Gianduja cubes with Dusting Cocoa Powder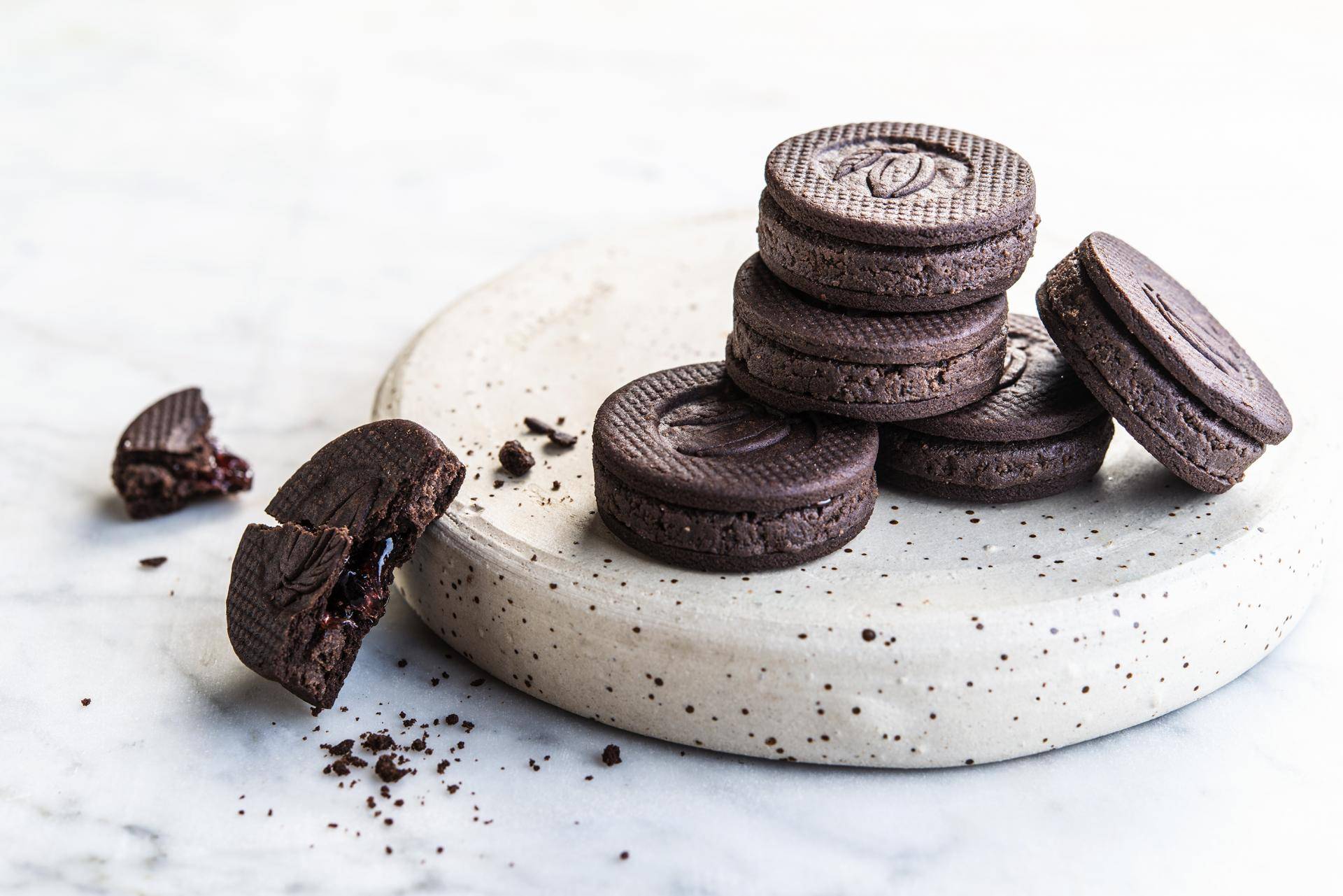 Cookies made with Natural Dark cocoa powder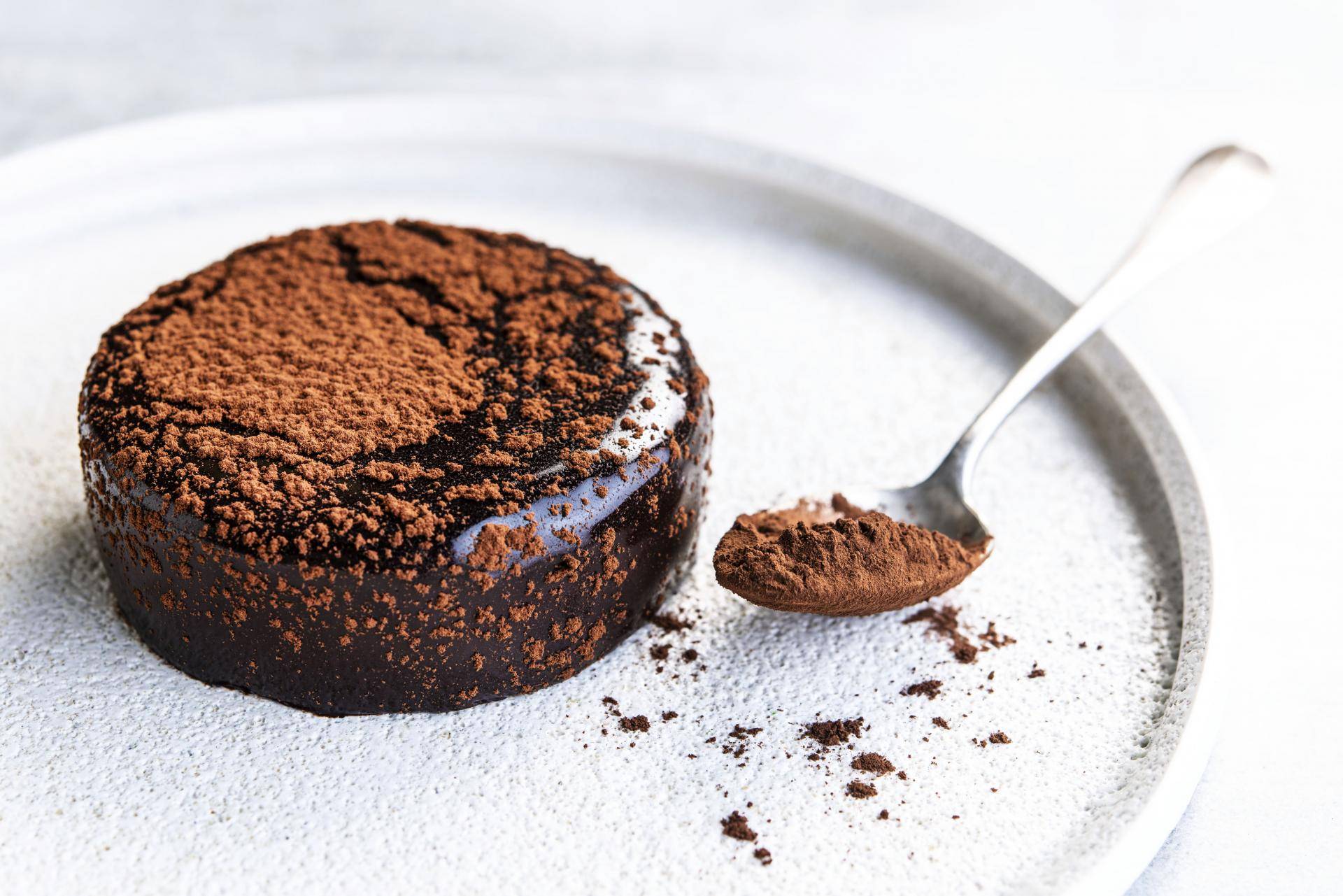 Lenotre made with Organic Dark Chocolate powder and Dusting cocoa powder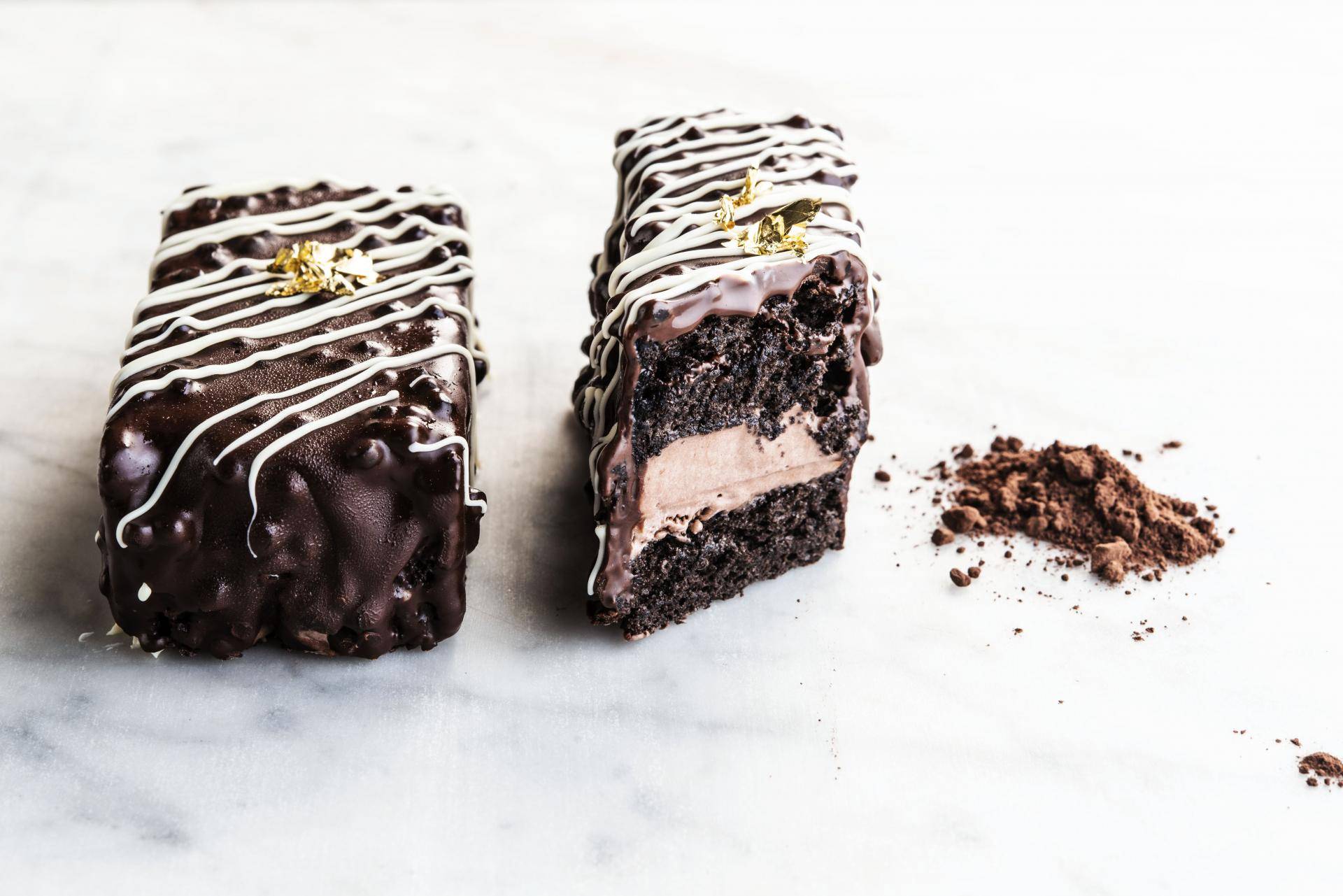 Natural Dark chocolate bar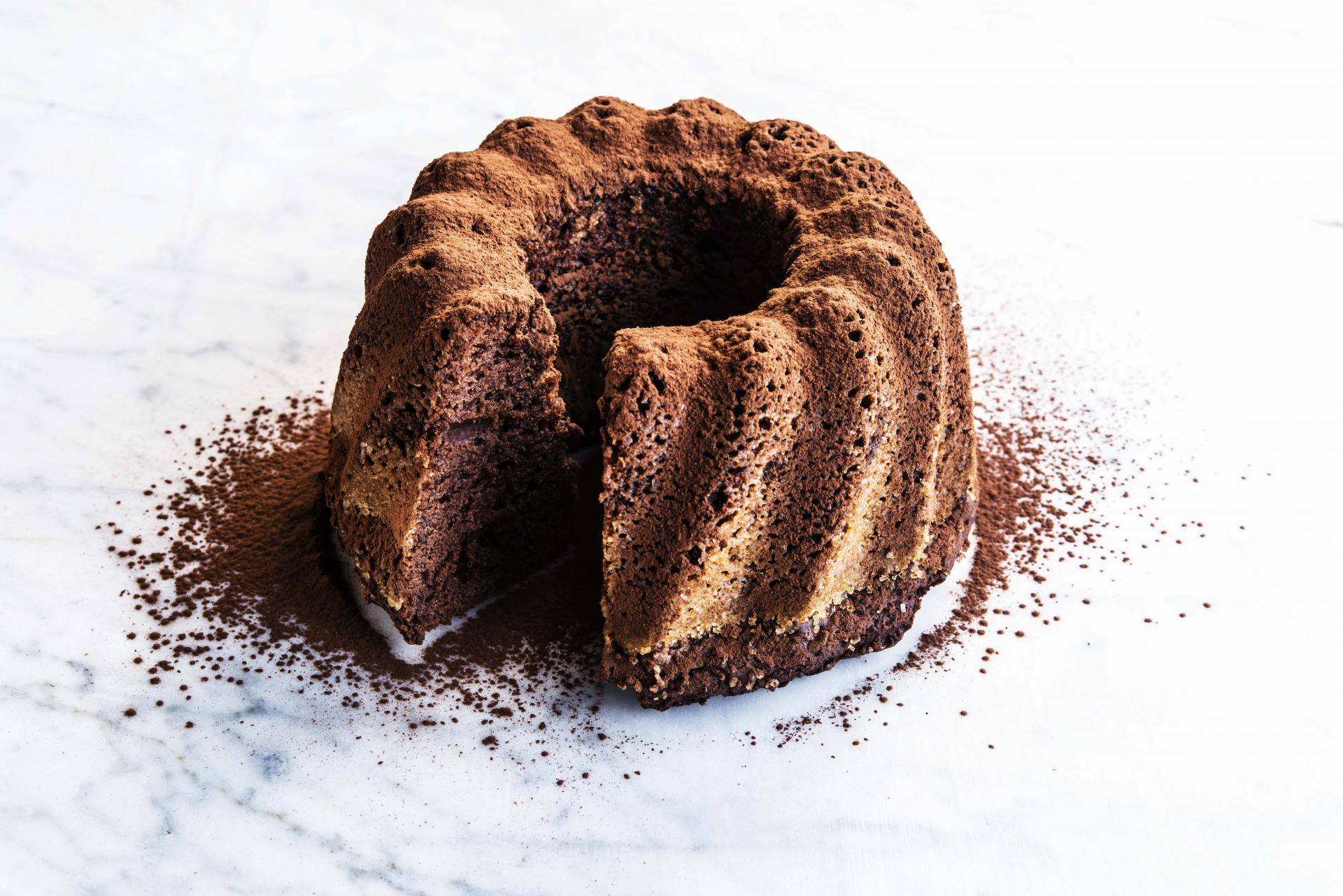 Bundt cake with Bensdorp cocoa powder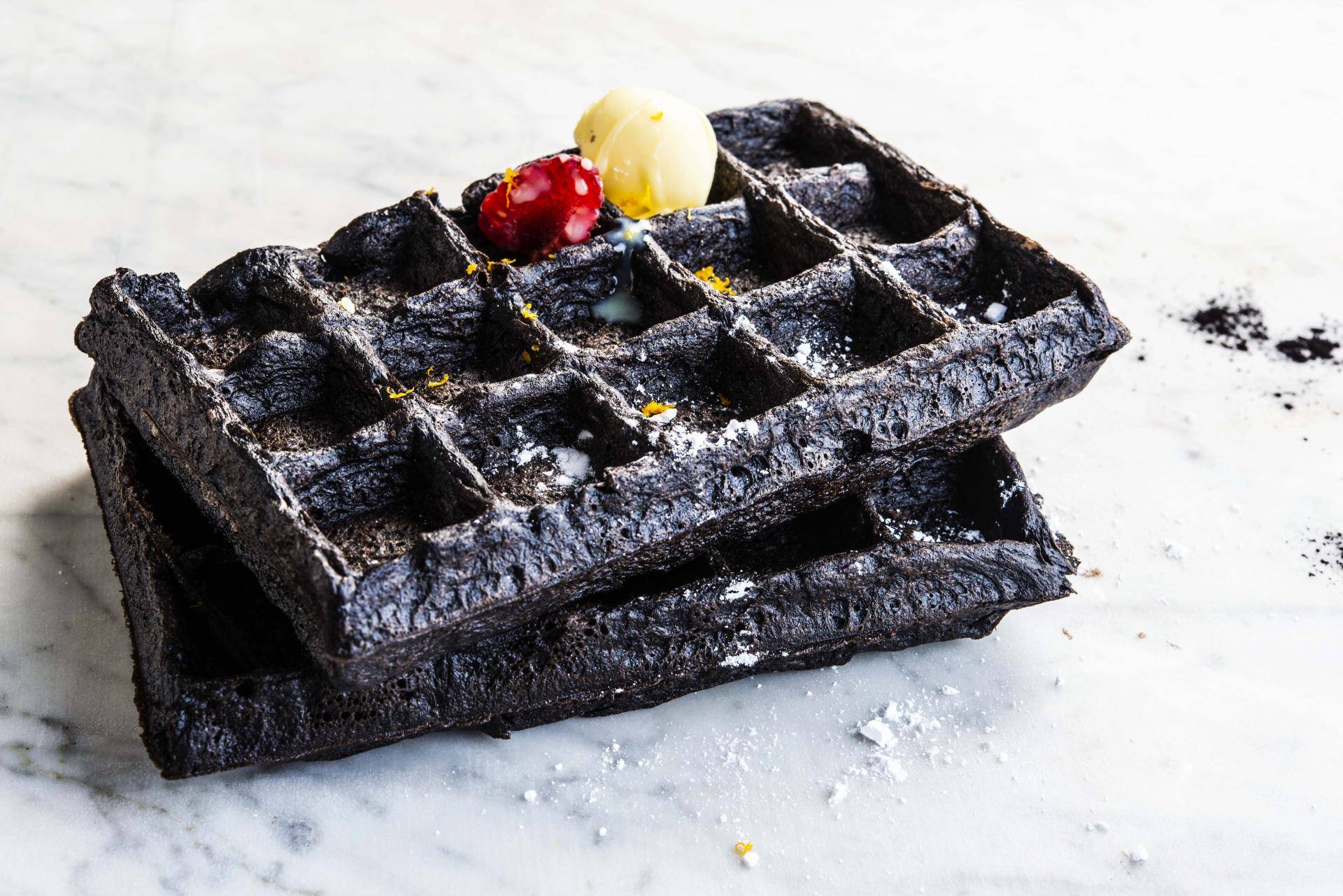 Waffles with Black Cocoa Powder
Beyond traditional recipes
Cocoa powders also present new possibilities beyond traditional baking and confectionery. They are dairy free so have a wide range of applications in vegan and plant based recipes, which are becoming increasingly popular with consumers.
The chefs were influenced by the growing plant based trend to devise dairy free chocolate drinks by mixing cocoa powders with almond and oat milk. They tested out different flavor combinations, including mint, orange peel, cinnamon and szechuan pepper for a spicy kick. Similarly, they also explored dairy free chocolate mousse by mixing our new Organic Dark Chocolate Powder with water, pectin and sugar. 
The experiments weren't limited to sweet treats either. We tried adding croqua to a delicious Chickpea burger for extra depth and richness, and also made a dark mayonnaise with our new Black Cocoa powder in a unique approach to a traditional recipe.
The array of delicious recipes and the diversity of flavor profiles created during our Chefs Days demonstrate that the possibilities of cocoa powders are limited only by our imagination. 
"Discovering new techniques and products opens the mind, we can come up with different combinations. We can realise what we can do and open our minds to new possibilities which we can then pass on to our customers and encourage them to create too." Chef Jürgen Koens
What will you create with cocoa powder? Explore the Bensdorp range of cocoa powders and specialities to spark your imagination.
Discover our Bensdorp Specialties