Parsnip, Honey and Cardamom cake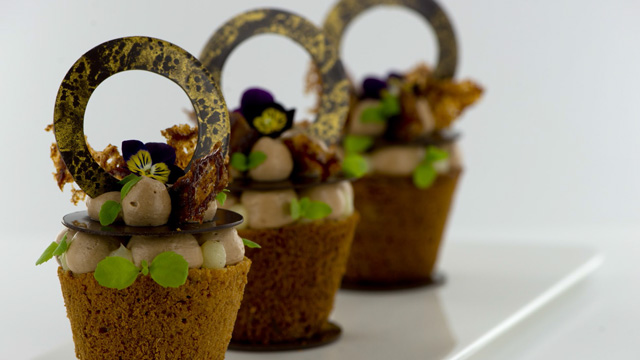 Parsnip Cake
Ingredients
Preparation

cardamom black seeds (no husk)

Melt the butter, sugar and honey in a saucepan until warm.
Add the orange zest, grated parsnips and apple.
Add in the eggs and fold through the mix.
Sieve all of the dry ingredients together and fold through the wet mix.
Pipe 80g of the cake mixture into each plant pot.
Burnt Honey Crème Brulée
Ingredients
Preparation

Place the honey into a sauce pan and caramelise.
Bring the cream and milk and vanilla pod to the boil.
Add the honey to the cream Add in the egg yolks.
Place back on the stove and cook to 85 ºC until thick.
Place into a clean bowl and leave in the fridge to set.
Ghana Chocolate mousse
Ingredients
Preparation

Place the sugar into a saucepan and pour enough water over to saturate the sugar and then boil to 121ºC.
Whisk the eggs and egg yolks to a thick sabayon pour on the boiling sugar and whisk until the mixture is cold.
Melt the chocolate and fold through the sabayon allow to cool to 35ºC.
Fold through the whipped cream.
Parsnip Puree
Chop the parsnips up into a small dice cover with water add a small amount of sugar and cook until soft. Puree.
Chocolate Tuile
Ingredients
Preparation

Mix the pectin through the sugar and cocoa powder.
Place the butters, glucose and water into a sauce pan and bring to the boil.
Add in the dry ingredients and then cook out until the mixture thickens slightly. Allow to cool.
Spread out thinly on to a silplat mat and cook at 180ºC for 10min.
Cut to desired shape.