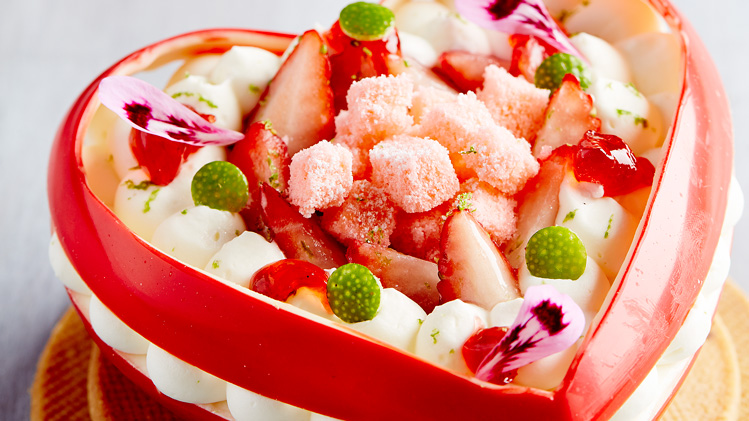 Strawberry confit
Ingredients
Preparation

Mix the sugar and the pectin.
Mix the rest of the ingredients together.
At 45°C add the pectin and sugar mixture.
Boil.
Add the lemon juice.
Let cool and sieve for a smooth texture.
Zéphyr™ Chantilly Cream
Ingredients
Preparation

Boil the cream, the inverte sugar and the glucose.
Pour on the Zéphyr™ white chocolate couverture and emulsify.
Add the cold cream and mix.
Keep at 4°C.
Whip before use.
Crumble
Ingredients
Preparation

Sift the flour, the icing sugar and the salt.
Add the almond powder.
Mix with the butter.
Once the mixture has cooled down, make the crumble.
Bake the crumble at 160°C for about 12 minutes.
Let cool and add 10% crystallized Zéphyr™ white chocolate couverture to bind the mix and create an impermeable layer.
Coloured ladyfinger biscuit
Ingredients
Preparation

Sift the powders together.
Beat the egg whites with the sugar and the powder colour.
Carefully add the egg yolks and the sifted powders.
Spread the mixture to 3mm thickness and bake at 180°C for about 10 minutes.
Assembly
Spray a thin layer of red cocoa butter in a heart mould (mould MLD-090083-M00). Then mould with Zéphyr™ white chocolate couverture. Remove from the mould and cut the top part of the mould with a heart shaped cutter to create an opening.
Beat the chantilly and place 10 g in the bottom of an uncut half heart.
Place 15 g of crumble on the Chantilly and add another 10 g of Chantilly.
With a heart shaped cutter, cut the ladyfinger biscuit and place it on the Chantilly.
Add 15 g of strawberry confit and fresh strawberries.
Close with the Chantilly.
Decoration suggestion: Decorate with fresh strawberries and cubes of ladyfinger biscuit colored in pink as well as some candied lime zest.
Enjoy.