Muffin
Uses: Classic muffin cups are ideal for baking this batter.

Tips: Muffins are infinitely versatile. This everyday recipe can be customised by adding chunks of apple, sultanas, berries, nuts, etc. to the batter. You can also replace some of the flour with ground almonds or grated coconut, or top with crumble, pearl sugar, etc. before baking.
For the chocolate or cacao powder version, since the batter contains bicarbonate of soda as an ingredient, alkalinisation may occur during the cooking process, resulting in a darker, reddish crumb and a peculiar flavour.
This does not happen with cacao madeleines, as they do not contain bicarbonate of soda, only baking powder. When dispensing the batter into the cups, fill them only halfway up. Ideally, use paper muffin cups. If using silicone cups, for the recipe where chocolate is added to the batter, wait until the muffins ae completely cooled before unmoulding.

What is the best cocoa powder? Extra Brute

Why? We recommend using medium Plein Arôme and high alkalized Extra Brute powders. Cacao powder reacts with baking powder giving a denser texture to the muffin. With Extra Brute 22/24, the muffin has a nice rounded brown colour and softness with a balanced dark chocolate flavour.
Good shape: nice all round texture and homogeneous appearance.

Scientific description: In this recipe, incorporating oil which gives the finished product a different texture and richness than when butter is used, since the oil melting point is lower than the butter's (solid fat). The consistent aeration is due to the presence of baking powder and bicarbonate of soda combined.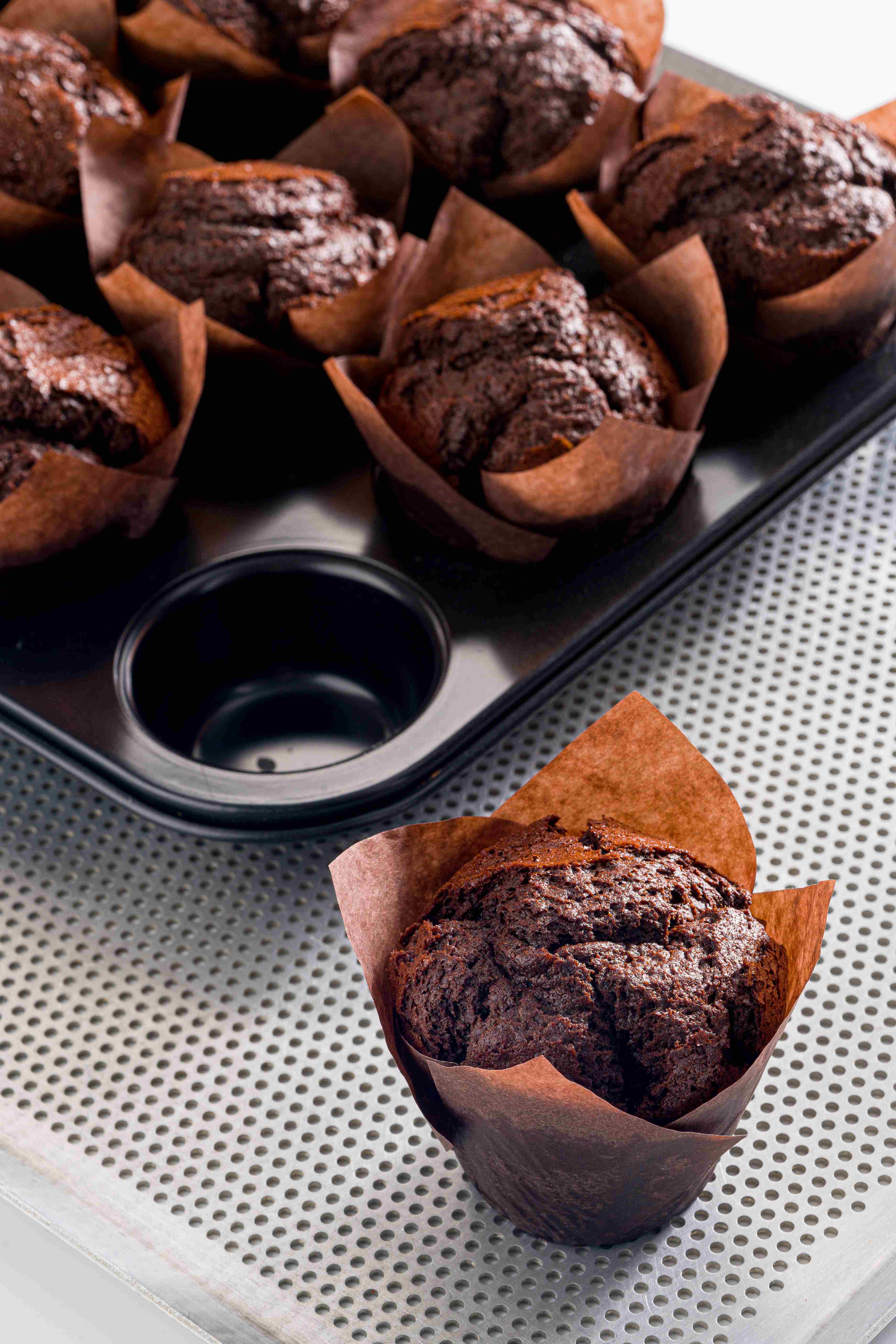 Muffin
Ingredients
Preparation

1 Mix the milk with the eggs, sugar and salt.
2 Add the flour sifted with the cocoa powder, baking powder and
bicarbonate.
3 Once a smooth batter is obtained, add the sunflower oil and fold in the
pieces of couverture.
4 Divide between the desired moulds and bake in the oven at 170-180°C.
5 Set aside.