WE ARE THE WORLD
INSPiRATiON COMES FROM THE SONG WE ARE THE WORLD, THAT THE  GREATEST GiFT OF ALL iS SHARiNG. USiNG ACCESSiBLE iNGREDiENTS  FROM ANYWHERE iN THE WORLD TO CREATE LAYER OF TEXTURES AND  FLAVORS, WiTH A SiP OF COCOA TEA ON THE SiDE SAVORiNG OUR TEA  CULTURE!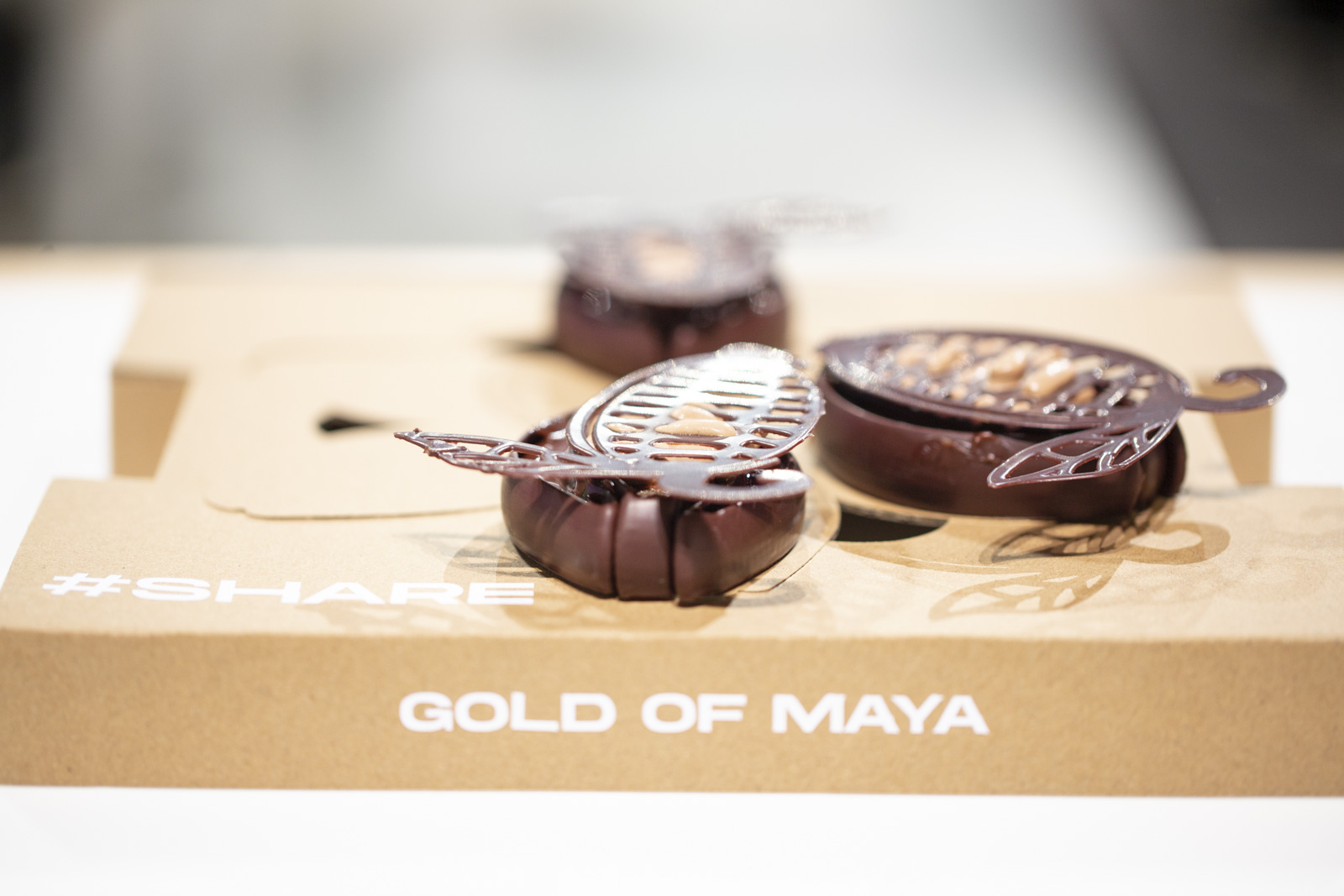 SHELL 1
Ingredients
Preparation

YUZU GEL

MiX ALL iNGREDiENT TOGETHER THEN BRiNG TO A BOiL

ORANGE GANACHE

BRING SUGAR, CREAM, ORANGE ZEST, SORBITOL, SALT TO BOIL

POUR OVER THE CACAO BARRY EXTRA BiTTER GUAYAQUiL 64% AND MIX

ADD BUTTER AND GRAND MARNIER

CHOCOLATE WHiPPiNG GANACHE

BRING MILK, 1/2 CREAM, SUGAR, GLUCOSE, GLUCOSE POWDER TO A BOIL

ADD GELATINE MIX

POUR OVER THE CACAO BARRY GRAND CARAQUE AND MIX

ADD REMAINING CREAM
SHELL 2
Ingredients
Preparation

STRAWBERRY COULLiS

HEAT STRAWBERRY JUiCE AND SUGAR

ADD GELATiNE MiX
SHELL 3
Ingredients
Preparation

CHOCOLATE CREMEUX

INFUSE STAR ANISE, MILK AND CREAM

COOK INFUSED MIXTURE WITH SUGAR AND YOLKS

POUR OVER THE CACAO BARRY SAiNT DOMiNGUE 70% AND GELATINE MIX

CARAMELiZED PECAN

CARAMELIZE THE PECAN WITH ICING SUGAR

DARK CHOCOLATE SPONGE

WHIP EGG WHITE WITH SUGAR

FOLD IN EGGS AND YOLKS

ADD ALL DRY INGREDIENTS, FOLD GENTLY

ADD WARM COVERTURE-BUTTER MIXTURE

BAKE AT 180°C FOR 10 MINUTES

CACAO TEA

BRiNG ALL iNGREDiENTS TO BOiL AND iN FUSE FOR 5MiNS
Assembly and finishing
SHELL 1
PiPE THE YUZU GEL
PiPE THE ORANGE GANACHE
PiPE THE CHOCOLATE WHiP GANACHE
SHELL 2
FiLL UP THE STRAWBERRY COULiS
SHELL 3
FiLL UP WiTH THE CARAMELiZED PECAN
FiLL UP WiTH LiTTLE CHOCOLATE CREMEUX
PUT THE CHOCOLATE SPONGE ON TOP AND FiLL UP WiTH THE CREMEUX 4:DECOR iT WiTH THE CHOCOLATE AND SERViCE WiTH THE CACAO TEA .