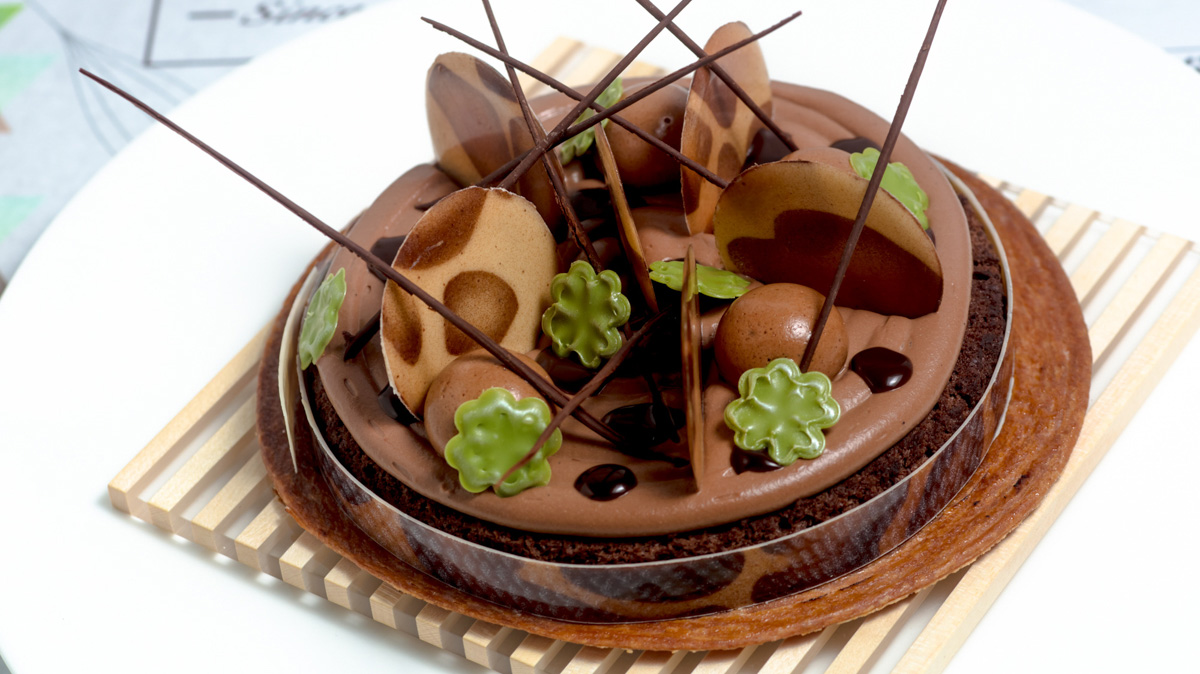 Roulade Chocolate Sponge
Ingredients
Preparation

Whip together egg yolks and honey.
Add milk and oil, followed by sieved flour and cocoa powder.
Whip together egg whites and sugar until a soft peak is obtained.
Fold egg yolk mixture into egg white mixture.
Spread out on a tray with silicone sheet and bake at 200°C for 9 minutes.
Hazelnut Mousse
Ingredients
Preparation

Pure Paste 100% Hazelnuts

Hydrate gelatine in 15 g of water.
Make ganache by heating 82 g of water and mixing it with lecithin, gelatine and chocolate.
Fold ganache into hazelnut paste.
Whip together egg whites with dextrose and glucose powder. Mix with ganache.
Apricot Compote
Ingredients
Preparation

Hydrate gelatine in water.
Dice semi-dry apricots.
Mix all ingredients in a pan and bring to a boil. Add gelatine.
Cover with cling film and store in refrigerator.
Croissant Dough
Ingredients
Preparation

Safe for butter, mix all ingredients into homogeneous dough with dough hook. Leave to rest in refrigerator for 1 hour.
Fold butter into dough and double-fold twice. Leave to rest in refrigerator for 30 minutes.
Single-fold dough and leave to rest in refrigerator for 1 hour.
Roll out till 2.2 mm thick and form into a roll. Leave to rest in freezer for 3 hours.
Slice with meat slicer and bake between 2 silicone sheets at 190°C for 12 minutes. Caramelise with icing sugar.