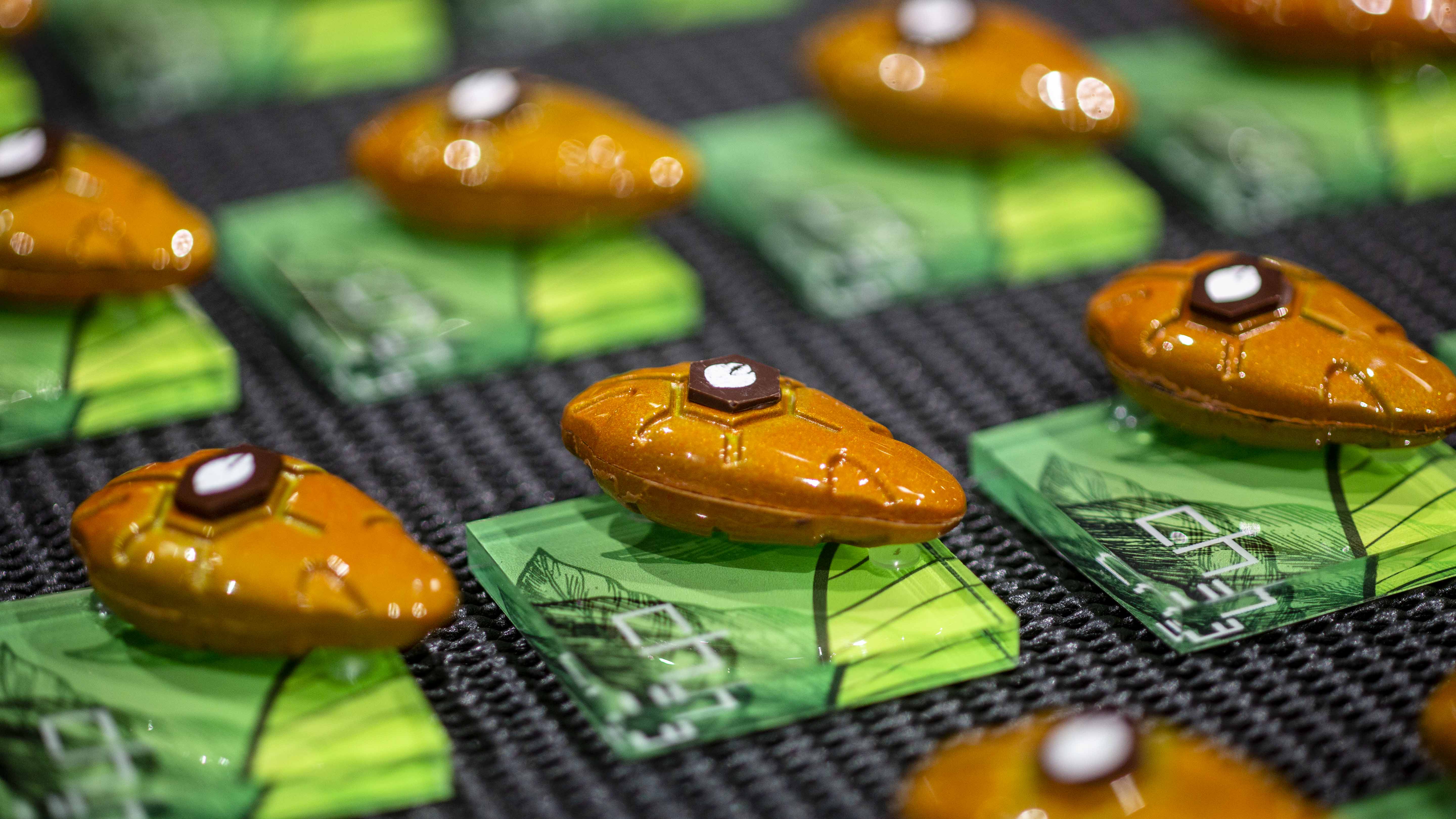 Lemon Passion Vanilla Ganache
Ingredients
Preparation

Passion Fruit Puree La Frutière

Infuse heavy cream 35%, vanilla bean and Meyer lemon zest.

Steep for 30 minutes, strain, reserve.

Mix lemon-vanilla infusion with the rest of the ingredients to have an homogenous texture.

Pipe in the casted mould.
Toasted Hazelnut Praline
Ingredients
Preparation

Piedmont hazelnuts, chopped

Toast the piedmont hazelnuts.

Cook the sugar at 120° C.

Add the nuts and caramelize.

Set aside to cool.

Blend in the Thermomix until you get fine granules.
Hazelnut Praline
Ingredients
Preparation

Pure Paste 100% Hazelnuts

Cook the toasted hazelnut praline with Cacao Barry – Pure Hazelnut Paste (100%).

Melt Cacao Barry – Excellence 55% and Cacao Barry – Cocoa Butter 100% Mini Pistoles.

Toast the Soba-Cha tea for 3 Minutes at 350°F, blend and sift into a fine powder.

Mix all ingredients together to have a homogenous texture.
Chocolate Shell
| Ingredients | Preparation |
| --- | --- |
| | Spray bonbon mould with the colored Cocoa Butter. Melt and temper with Cacao Barry Ghana "Origine" Milk Couverture 40% and the Cacao Barry Cocoa Butter 100% Mini Pistoles. Cast moulds and fill with praline and ganache. |