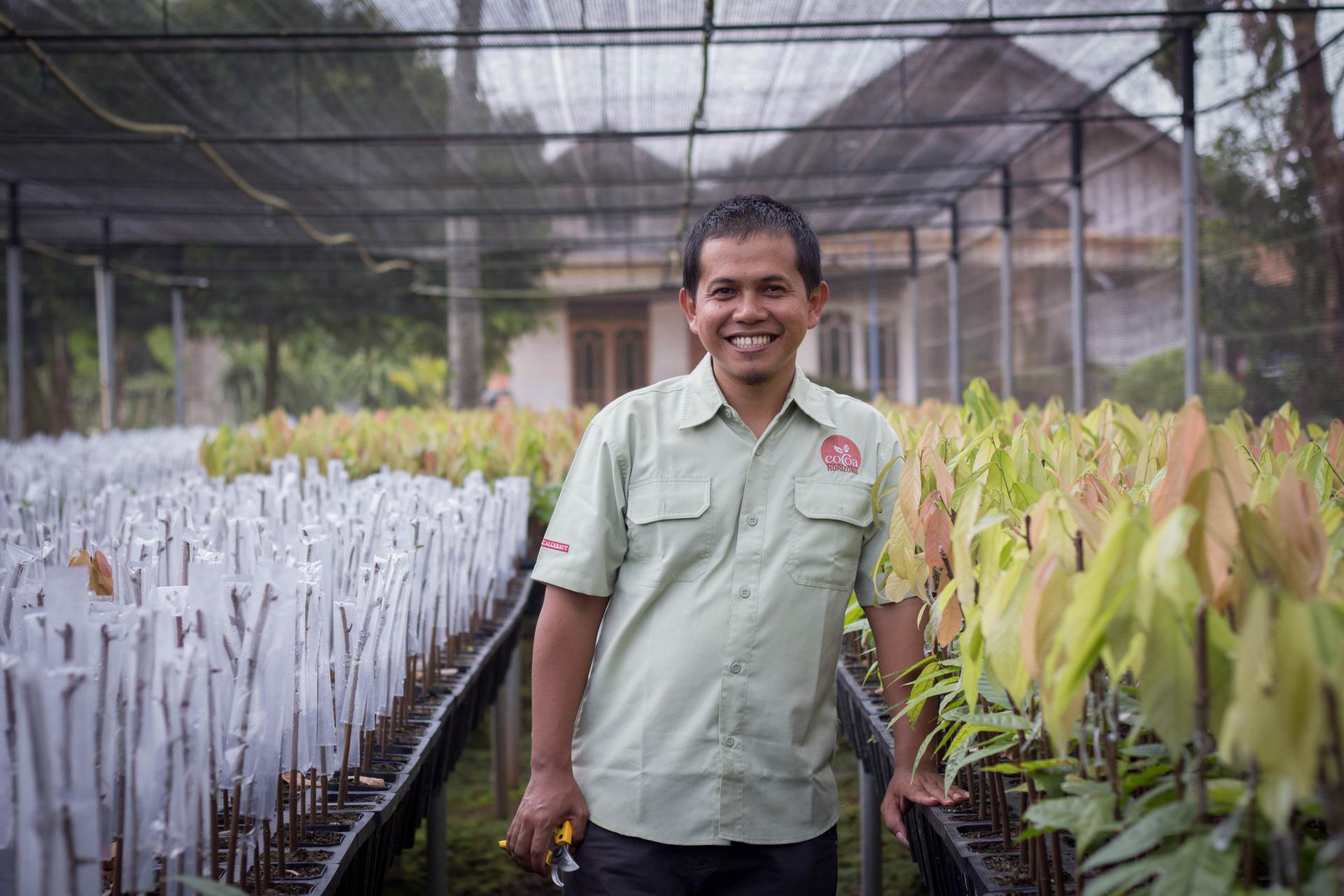 Earth Day: Powered by the people
Story
See how Barry Callebaut employees are helping nature to thrive:
Sarono, Nursery and Farm Management Supervisor (Indonesia)
"Our re-plantation efforts will help curb deforestation by ensuring aging cocoa trees in existing farms are being replaced by healthy seedlings. At these cocoa nurseries, we help to cultivate high-quality and high productivity seedlings which will help cocoa farmers maximize the potential of their land. With higher yields on the same plot of land, cocoa farmers will not need to cut down trees on new land to generate additional income."
Sabine Fortmann, Sustainability Expert Global Sourcing (Switzerland)
"The challenges we face with regards to our Thriving Nature commitments vary widely by ingredient. With dairy being one of our main impacts, I am working with our dairy suppliers to assess and report the greenhouse gas emissions from the dairy products we buy and to look at different mitigation and reduction opportunities. I am also revising our Supplier Code and Sustainable Sourcing Policies to ensure that our commitment to stop deforestation and have a positive environmental impact will be reflected in our sourcing decisions for all ingredients in the future." 
Hassan Abid, Global Energy Manager (Belgium)
"After working almost 15 years with Barry Callebaut I am glad that we set the bold ambition of becoming carbon and forest positive by 2025. We now have 11 factories which are using only renewable electricity and we're using waste streams like cocoa shells to maximize renewable energy use. More than 50 of our production sites have an Energy Champion to coordinate on-site energy saving measures, such as the decrease of steam consumption, the use of high efficiency equipment and monitoring of energy to produce products in a carbon friendly way."
Jakub Ferenc,  Business Development Manager EMEA (Poland)
"I am looking for the opportunities to reduce our CO2 emission in the transportation and manufacturing areas. This can be achieved by optimizing the truck load increase, for example, combining separate orders to one truck, and also bringing the volume production closer to the customer. The benefits of these initiatives are two-fold: by reducing our carbon emissions, we will get closer to achieving our goal of being carbon positive by 2025 and help to serve our customers better.
Partha Govindan,  Africa Regional Sustainability Director & GM Biolands Group (Ghana)
"By mapping all the cocoa farms, we are fully committed to continue to not source cocoa that comes from protected areas and from other vulnerable landscapes.  We are also adopting an agroforestry approach in our farm rejuvenation efforts. Through such initiatives and by fully engaging with key stakeholders such as the communities and the government, we are making our chocolate more environmentally protective."