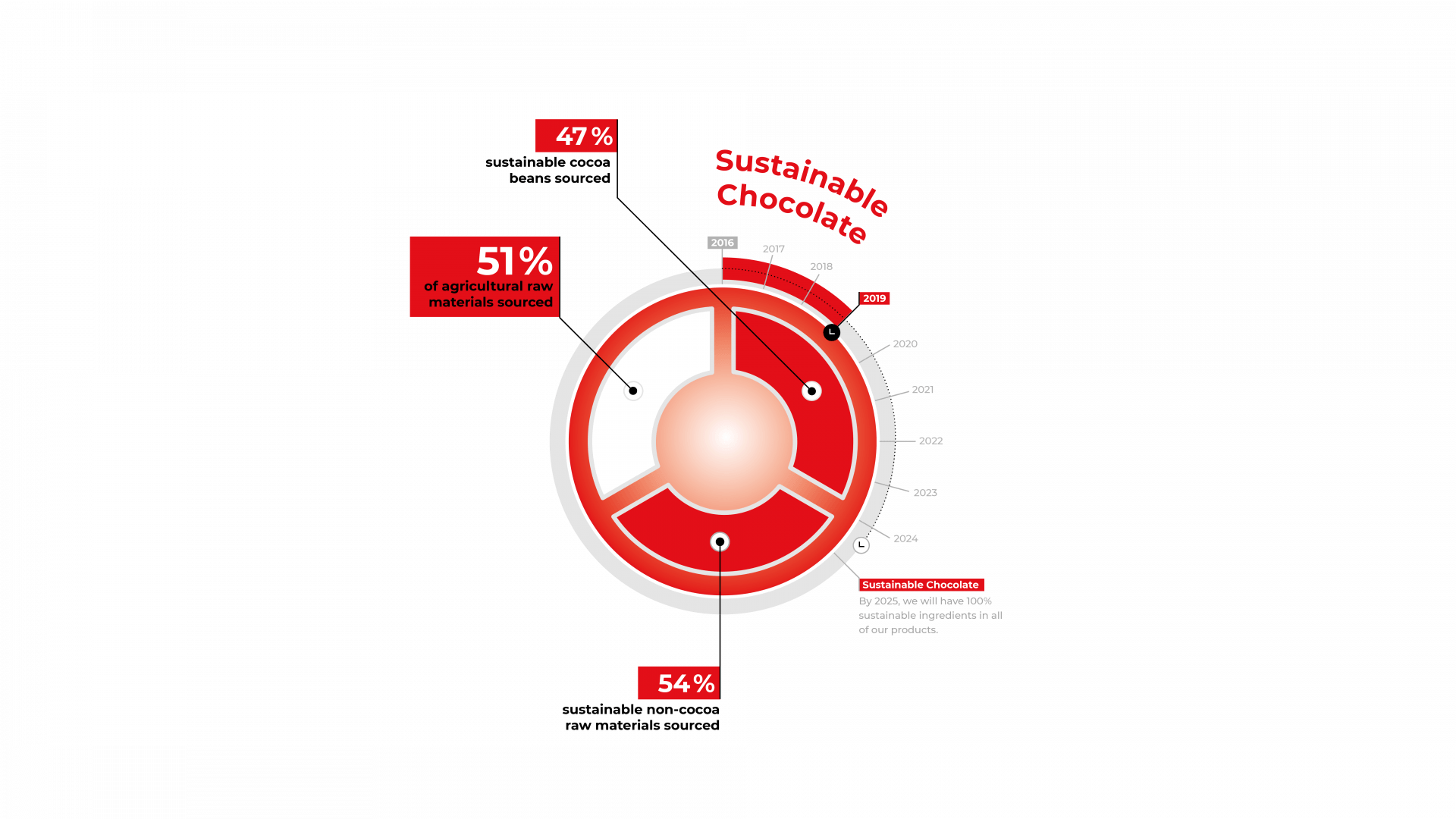 At Barry Callebaut we source a wide range of ingredients including dairy, palm oil, coconut oil, soy lecithin, vanilla, cane sugar, beet sugar and nuts for inclusion in our chocolate products. We recognize that each of these raw materials has its own complex supply chain that can also vary across different geographical regions. We are therefore working with our suppliers and certification and sustainability programs, to define and implement sustainability standards for each ingredient.
For the sustainable sourcing of raw materials, establishing common industry standards on sustainability is key. Barry Callebaut is at the forefront of the development of such standards for our priority ingredients. We have been a member of the Roundtable on Sustainable Palm Oil (RSPO) since 2011. We are also a member of the Palm Oil Innovation Group (POIG), in order to build upon the efforts of RSPO to further advance sustainable palm oil requirements. Working with Conservation International, we also undertook a palm oil risk assessment to identify and prioritize deforestation risks in our supply chains.
As a part of our strategy to proactively promote sustainable ingredient production, we joined the Coalition for Sustainable Livelihoods, led by Conservation International, to promote smallholders prosperity, eliminate deforestation, and promote forest restoration in Indonesia.
Our sustainable soy is sourced via ProTerra. In January 2019, we also became members of the newly formed ProTerra Stakeholder Council to drive further improvements in standards and governance. ProTerra is the industry leader in certified sustainable soy cultivation, which is mainly sourced from Brazil.
Dairy production is a major contributor to greenhouse gas emissions in our carbon footprint. Achieving sustainable dairy production is a big challenge, which is why we are a member of industry platforms such as the Sustainable Agriculture Initiative Platform (SAI) and part of the Dairy Working Group. In addition, in 2018, Barry Callebaut established the VisionDairy program to develop a Dairy Sustainability Charter, the aim of which is to set a global benchmark for sustainable dairy production. In 2018/19, we collected a first set of outcome measures from suppliers, and continued to expand VisionDairy by benchmarking it against some of our suppliers' sustainability programs in order to streamline data collection and reporting processes.
In 2017, we joined Bonsucro, whose mission is to ensure responsible cane sugar production that creates lasting value for the people, communities, economies and eco-systems in all cane-growing regions. In fiscal year 2018/19 we received the Bonsucro Chain of Custody certification ensuring that we are diligently applying the Bonsucro sustainability standards for the cane sugar products in our supply chain.
Barry Callebaut is a member of the crops working group at the SAI. We benchmark and monitor our beet sugar suppliers against the SAI Farm Sustainability Assessment and expect them to reach, at a minimum, silver level. For sustainable beet sugar production, pesticide and fertilizer levels are optimized, soil health is maintained, carbon sinks are protected and energy use is optimized. In fiscal year 2018/19 we worked with Russian beet sugar suppliers who have now all reached the silver level with their selected farmers and plants. Going forward, we aim to achieve this success with our suppliers in Turkey.
Similar to cocoa farmers, coconut farmers face low yields due to ageing trees and poor farming practices, and are not achieving sustainable livelihoods. For this reason, in April 2019, Barry Callebaut initiated and organized the first Roundtable on Sustainable Coconut and Coconut Oil together with the US Agency for International Development (USAID) and Green Invest Asia. The roundtable, which was attended by 80 representatives, including buyers and processors representing over 50% of the global coconut oil supply, aims to establish a sustainable coconut and coconut oil supply chain in the Philippines and Indonesia, the world's largest producers of coconut oil. Following this event, we are now working with key stakeholders to institutionalize the Coconut Roundtable and create a forum for collaboration in coconut sustainability.
Our measured impact
51% of all the raw materials we source originate from sustainable sources. This is an increase of almost +16% compared to the previous fiscal year. In 2018/19 we increased our volume of sustainably sourced cocoa to 47%. In the coming fiscal year we will start to focus more efforts on further building the market pull for sustainably sourced cocoa. 54% of our non-cocoa ingredients are now coming from sustainable sources, an increase of almost +23% compared to 2017/18.