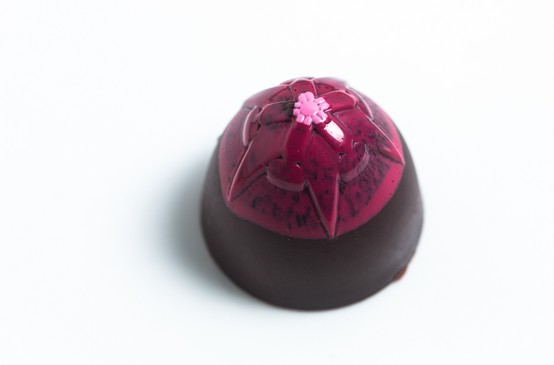 Paté de Fruit
| Ingredients | Preparation |
| --- | --- |
| lychee raspberry rose purée | Quickly boil the fruit purées and half of the sugar in a pot. Blend the second half of the sugar and pectin, add to the pot, whisk in and quickly boil. Add glucose and heat up to 103°C. Whisk in the lime juice and rose fragrance and pour into Silpat forms. |
Ganache
Ingredients
Preparation

lychee raspberry rose purée

butter stored at ambient temperature

dried hibiscus flower leaves

Heat the cream, glucose, fruit purée and hibiscus petals in a pot, let sit for 5 minutes. Pour over the chocolate at 80°C using a strainer. Start developing the emulsion from a center blend in the butter and orchid extract.
Assembly
| Ingredients | Preparation |
| --- | --- |
| | Paint or spray color the mould. Create the shell with Ocoa™, use some cocoa butter to thin if needed. Add the paté de fruit into the shell and pipe in the ganache. Finish off the shell with Ocoa™. |