Montmorency Cherry and Inaya™ Chocolate Verrine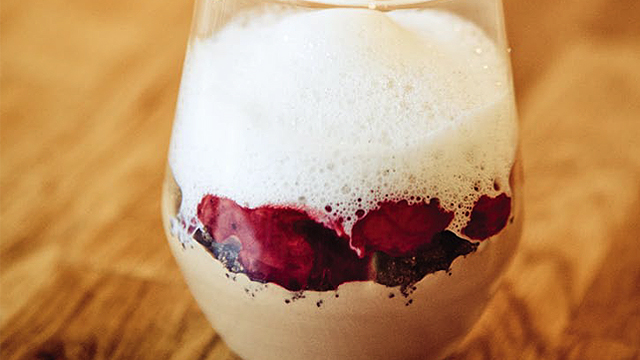 Alunga™ Milk Chocolate Mousse
Ingredients
Preparation

Boil

Pour on

Cook to 83°C.

Add

Cool down.

Melt

Whip

Incorporate the cream with the chocolate and the pate à bombe.
Montmorency Cherry Marmelade
Ingredients
Preparation

Cook

Mix

Add to the cooked cherries mixture.

Bring to a roaring boil and add off the heat

Pipe on top of the mousse once it has crystallised.
Chocolate Streusel
Ingredients
Preparation

Melt

Mix with

until consistency of a streusel
Vanilla emulsion
Ingredients
Preparation

Mix and keep cold

Blend with a cutter for 10 minutes.
Keep in a stainless steel pan with a wire rack at the bottom.
Assembly
Pipe the mousse in the verrine.
When the mousse has set, pipe the cherry marmalade on top of the mousse.
Set the chocolate streusel on top and finish with the vanilla emulsion.