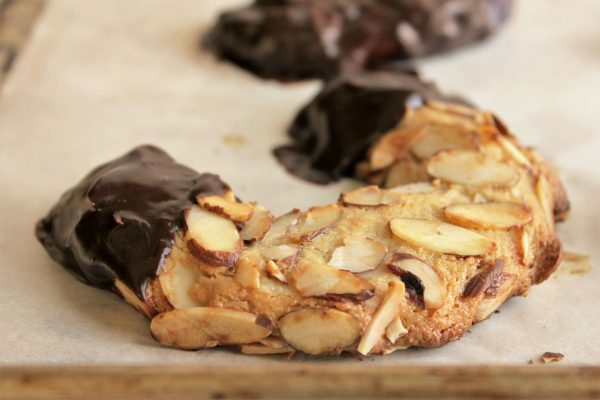 For the Almond Horns:
Ingredients
Preparation

Almond Paste - Natural - 45# pail

On slow speed, mix the American Almond® Almond Paste with the sugar and gradually add the eggs to create a smooth paste. Scale into 2 oz pieces or the size of your choice.
Gently roll each piece into American Almond® Sliced Natural Almonds, shaping it into 4″ lengths with tapered ends. Form each piece into a crescent shape.
Place onto parchment-lined sheet-pans and bake 12-15 minutes at 400°F or until lightly browned.
Brush with hot apricot glaze as you take them from the oven.
Cool, then chill before dipping the ends into melted chocolate.

More ideas

Try making miniature Almond Horns and using them to dress up your cookie tray assortment.
Experiment with different shapes and fruit fillings.