Tulsa Peach Pecan Crostata
Whiskey Braised Peach Pecan Crostata with Tulsa Dark Chocolate by Gabrielle Hatch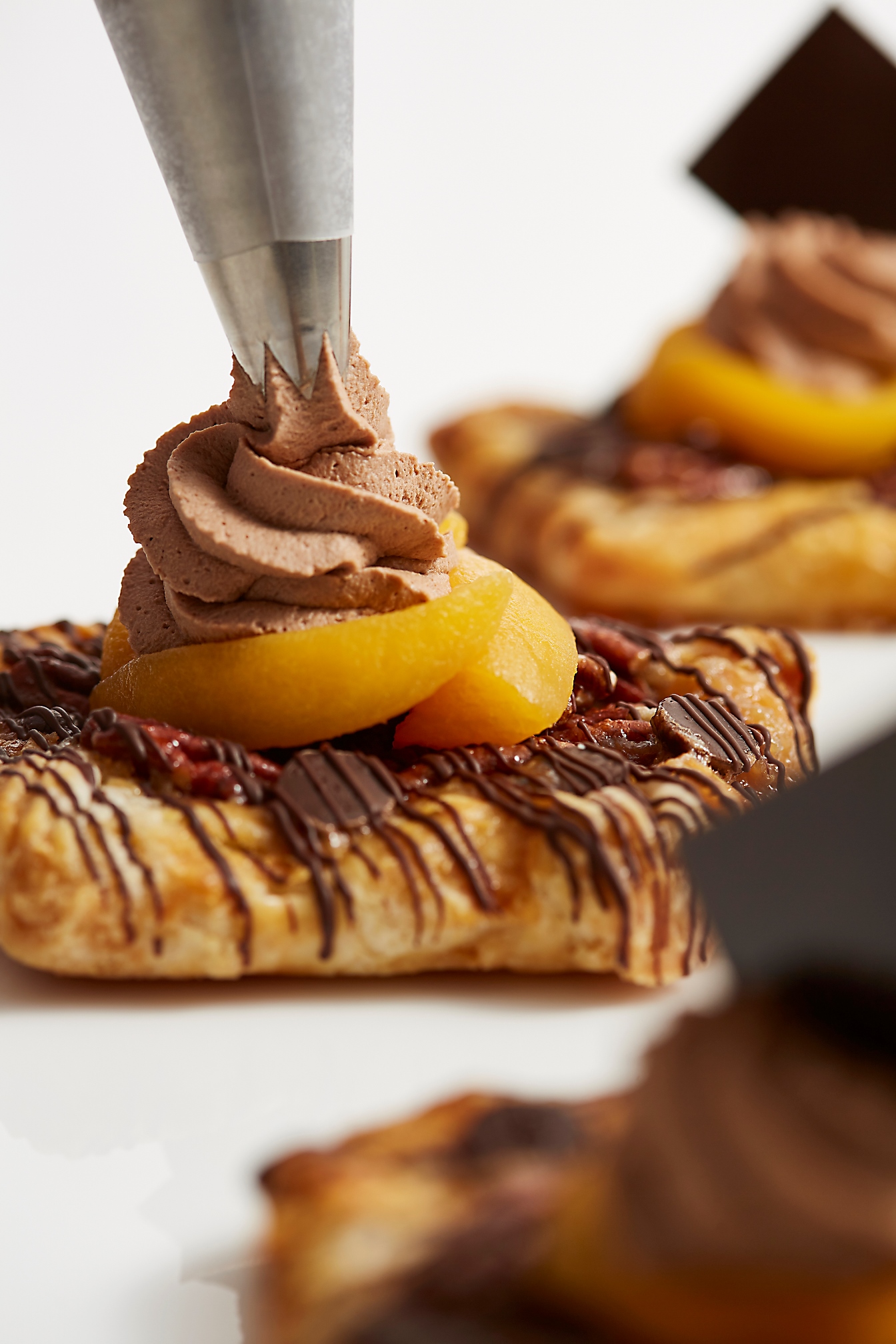 Pecan Pie Filling
Ingredients
Preparation

1. Mix all of the ingredients together except for the butter until there are no lumps.
2. Mix in the butter last while it is still warm.
Whiskey Braised Peaches
Ingredients
Preparation

1. Make simple syrup with the water and sugar. Add in the whiskey and maple syrup and mix until combined.
2. Bring this to a simmer with the cinnamon sticks. Add in the peaches and continue to simmer on low heat for 20 minutes or until the peaches are soft. Take the pan off the heat and cover with aluminum foil. Allow this to sit for at least an hour.
Chocolate Whipped Cream
Ingredients
Preparation

1. Make a ganache with the heavy cream 43g and the Van Leer Tulsa 55% Dark Chocolate.
2. Whip the heavy cream 142g to a very soft peak and then stream in the still melted ganache while continuing to whip. Whip to a medium peak.
Pecan Crostata
Ingredients
Preparation

1. Roll the pie dough out to ¼" thickness. Cut large 6" rounds out of the dough and bring corners in to create a pentagon or hexagon shape. Pinch these corners down.
2. Using a fork, gently poke holes in the dough so the dough doesn't rise too much in the oven.
3. Beat the egg gently until it is homogenous. Brush the egg onto the crust as an egg wash. Mold foil into the interior corners of the dough and fill with beans or pie weights.
4. Blind bake the crusts at 360° Fahrenheit until the edges are a light to medium golden color. Remove the crostatas from the oven and remove the foil and pie weights from them.
5. Fill the centers with just enough pecan pie filling so it doesn't over-flow. Top the filling with whole pecan halves and pieces of Van Leer Tulsa 55% Dark Chocolate.
6. Bake at 340° Fahrenheit for about 20 minutes or until the filling in bubbly and amber colored. Remove from the oven and allow to cool. Drizzle with the melted and tempered Van Leer Tulsa 55% Dark Chocolate.
7. Top with whiskey braised peaches and chocolate whipped cream.