Stroopwafel Sandwich
Stroopwafel Sandwich by Gabrielle Hatch
Serves 10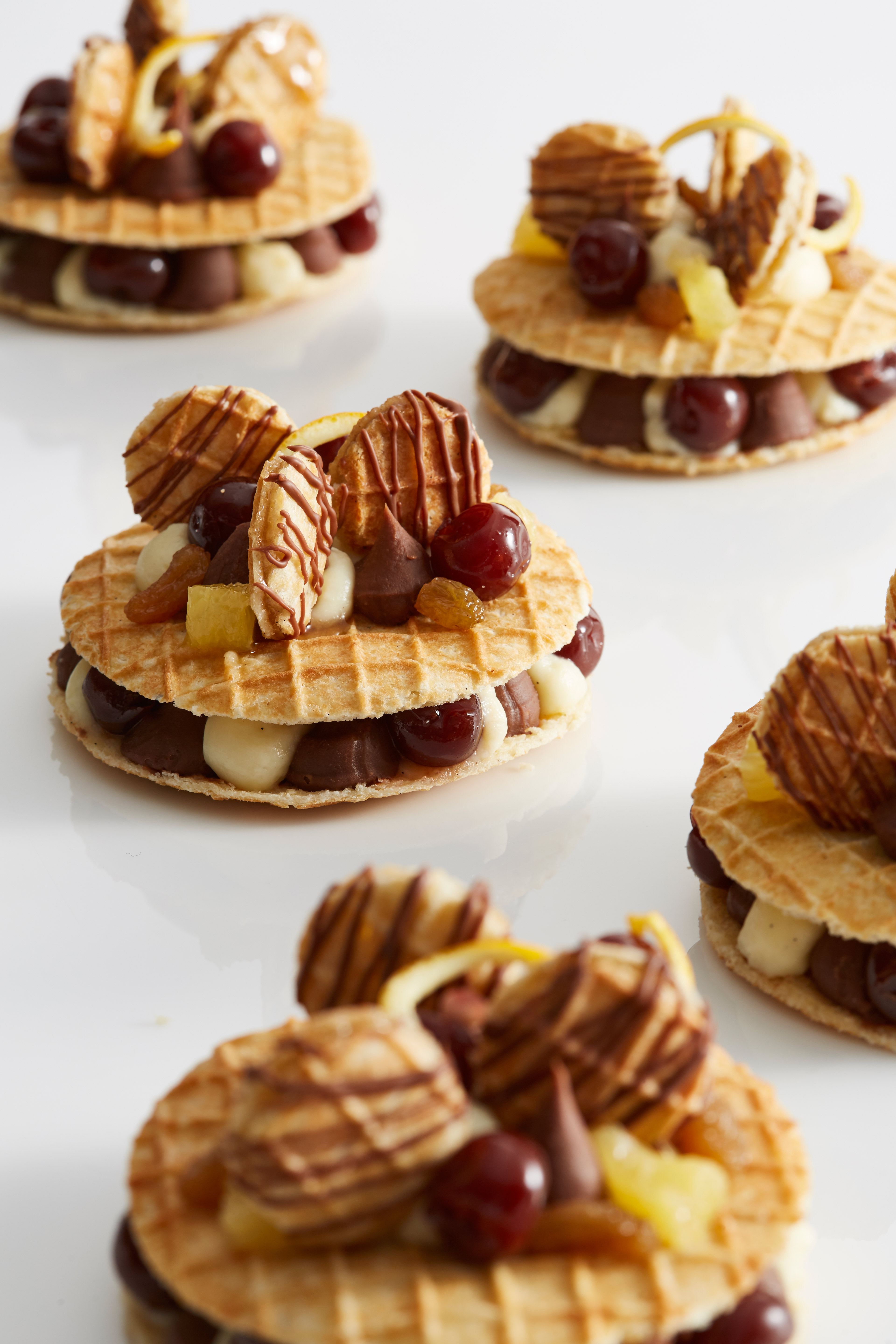 Stroopwafel Cookie
Ingredients
Preparation

1. Sprinkle the yeast on top of the warm water and let this sit for 10 minutes.
2. Meanwhile, combine the flour, sugar, vanilla bean and allspice.
3. Cut the butter into the dry mixture in pea size pieces.
4. Mix the eggs and the yeast into the dry ingredients and knead together until a dough has formed. Cover this and let sit for 1 hour at room temperature.
5. Divide the dough into medium size scoops and roll into a ball. Flatten this out in a hot thin waffle iron and cook to golden brown.
6. While the Stroopwafel is still warm, cut with a round cutter, and slice in half horizontally.
7. On the cut side of the Stroopwafels, coat with a thin layer of the tempered Van Leer Bel Lactée 33% Milk Couverture
Stroopwafel Filling
Ingredients
Preparation

1. Heat the brown sugar, butter, maple syrup and corn syrup together. Bring to a light simmer.
2. Add the ground cinnamon and simmer the mixture gently for 1 minute.
3. Take the syrup mixture off the heat and add in the Brandy. Allow this to cool and then use as desired.
Dutch Eggnog Custard
Ingredients
Preparation

1. Whisk together the cornstarch and a quarter of the milk. Add in the eggs and yolks and whisk together until homogenous.
2. Bring the remaining milk, eggnog, sugar and vanilla bean to a boil.
3. Temper a little of the hot liquid into the egg mixture until it just becomes warm. Then add this mixture back into the pot of boiling liquid while stirring constantly. Cook this until it becomes very thick.
4. Transfer the mixture to a small mixer with a whisk attachment. Add the liquor and butter to the top and turn the mixer on. Mix this together on medium-low speed until the entire batch cools to room temperature. Refrigerate.
Ganache
Ingredients
Preparation

1. Bring the heavy cream and corn syrup just to a boil.
2. Pour this on top of the un-melted Van Leer Bel Lactée 33% Milk Couverture and let this mixture sit for 1 minute.
3. Stir the mixture together until it becomes emulsified. Let set before piping.