Coconut Black Forest mini cake
BLACK FOREST WITH A TASTE OF HUESCA Raúl Bernal brings his own personal touch to the great German patisserie classic using Bolea cherries, a traditional variety grown in the province of Huesca, and substituting Kirsch cream with coconut cream.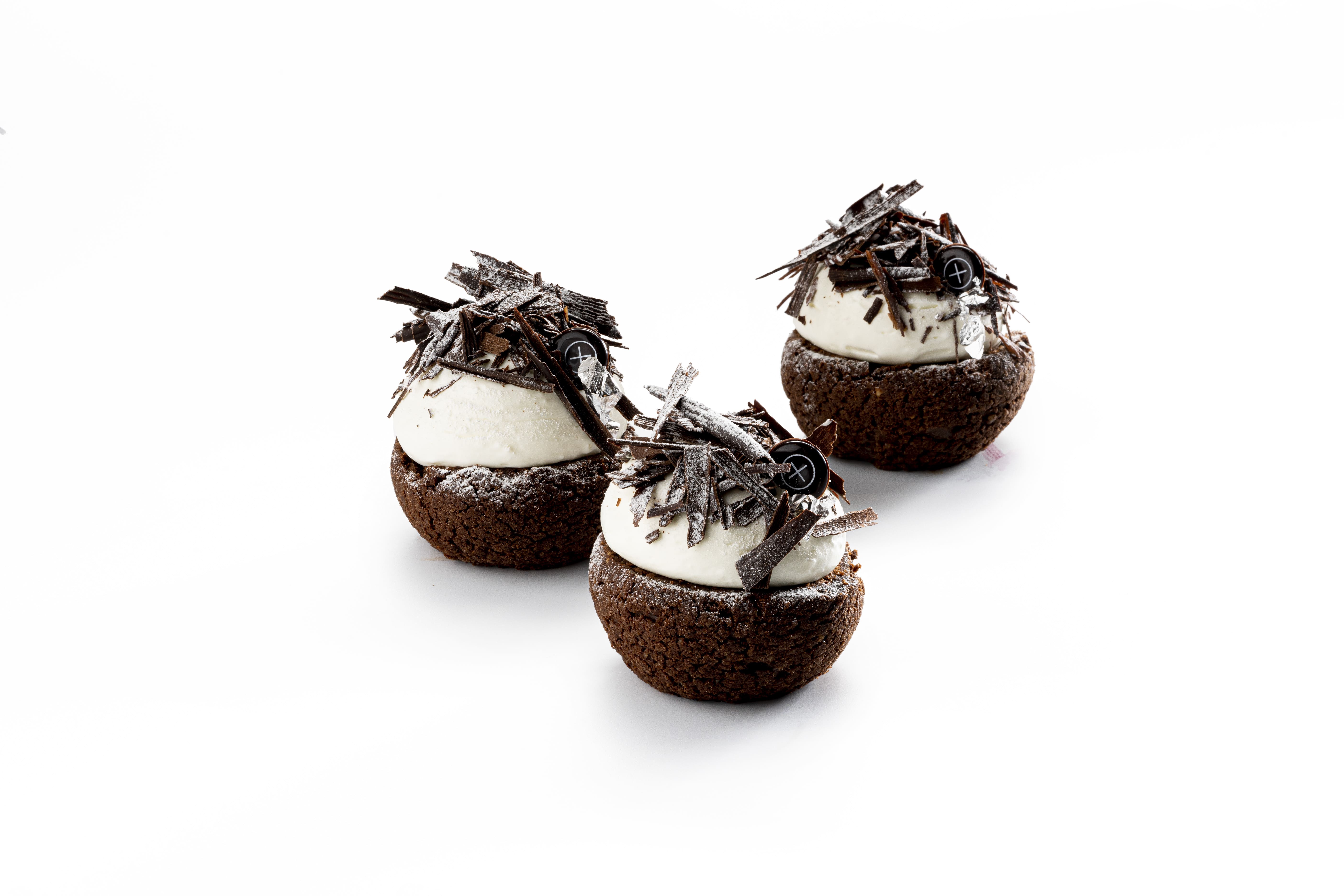 Cocoa choux paste
Ingredients
Preparation

Boil the milk, salt, sugar and butter together.

Add the previously sieved flour with the powdered cocoa.

Dip the dough in boiling water for a few min.

Place in the food mixer and gradually add the eggs until the mixture reaches 60°C.

Add until a soft peaked texture is obtained.

Measure out around 20-22 g onto a Silpat.

Bake at 170°C for 10 min. 0% humidity with fan on 1 / 170°C for 25 min. 100% humidity fan on 1.
Cocoa craquelin
Ingredients
Preparation

Work the butter and add the sugar.

Mix all the dry ingredients and add them to the butter mixture.

Homogenise and place between two sheets of baking paper.

Spread out to a thickness of 1.6 mm.

Cut out 6.5 cm discs.

Freeze.
Cocoa sponge cake
Ingredients
Preparation

Whisk the sugar with the eggs and the invert sugar.

Whisk the egg whites with the sugar.

Mix the powdered almond with the flour and the cocoa, then sieve.

Melt the butter.

Mix the whisked meringue with the egg.

Add the sieved solids.

Add the the melted butter.

Spread out onto a 60 x 40 tin with Silpat.

Bake at 180°C for about 17 min.

Cut into discs and set aside.
Bolea and griotte cherry purée
Ingredients
Preparation

Heat the water with the sugar and the citric acid solution.

Add the purées with the juice and the Gelcrem.

Mix with the food processor until a homogeneous mixture is obtained.

Set aside.
Tobado couverture cream
Ingredients
Preparation

Heat the cream with the milk and sugar.

Pour over the egg yolks and cook the mixture at 85°C.

Add over the couverture with the salt and emulsify.

Leave to crystallize in a tightly cling-filmed container.
Coconut and lime whipped cream
Ingredients
Preparation

Heat the cream with the zest and infuse.

Strain and add the rehydrated gelatin and the sugar.

Add the purée and the Malibu.

Leave to rest 24 hours in the fridge.

Whip and pour out.
Assembly
Measure out the choux and place the frozen craquelin.
Freeze and bake.
Turn the choux over and cut the base.
Place a little of the cream and cover with a disc of sponge cake.
Pour out the cold cherry cream.
Spoon out a small amount of coconut whipped cream.
Finish off with a few shavings of Selección Maragda 70% dark chocolate couverture and sprinkle with anti-moisture sugar.