Exotic individual cake
EXOTIC PASSION
Coconut, mango, lime, passion fruit... Lluís Costa was inspired by tropical flavours to create this exotic individual cake made with Opal white chocolate that will delight you with its delicate creaminess and intense coconut flavour.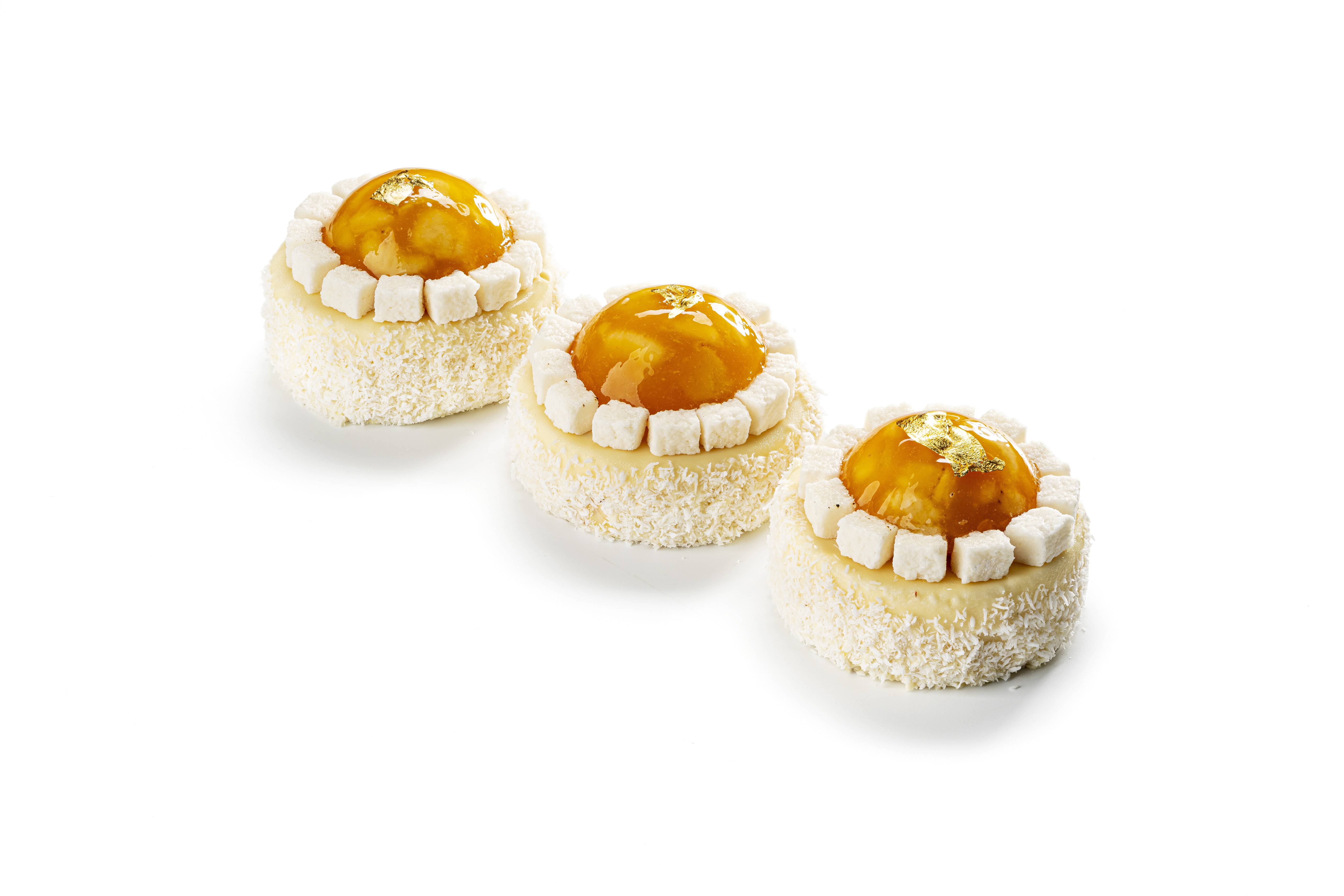 Coconut Daquoise sponge cake
Ingredients
Preparation

Using the Robot-Coupe, mix the toasted almond flour, salt, icing sugar and flour until a smooth mixture is obtained, then add the dried coconut.
Whisk the egg yolks, adding the sugar at the end of the whisking process.
Add the solid ingredients and the remaining coconut pulp. Spread out.
Bake at 290ºC for 10 minutes.
Exotic compote
Ingredients
Preparation

Ripe banana cut into small cubes

Boil the purées, the sugar and the gelatin leaves.
Mix the lemon juice with the diced banana.
Mix everything together and place in the mould.
Coconut mousse
Ingredients
Preparation

Semi-whipped whipping cream (35% fat content)

Boil the purée and add the previously hydrated and dry gelatin sheets.
Pour gradually over the chopped white chocolate until a correct emulsion is obtained.
Mix with the semi-whipped cream at about 32/34 ºC.
Creamy passion fruit and mango
Ingredients
Preparation

Boil the purées with the sugar and gelatin.
Add the egg and the yolks and bring to the boil.
At a temperature of 45ºC, add the creamed butter, emulsify and strain.
Assembly
Pour the exotic fruit compote into a 5 cm diameter half-sphere mould and freeze.
Line a 6 cm diameter ring with acetate plastic. Place the 0.5 cm thick sponge cake on the bottom of the mould.
Then pour 30 g of the creamy mango into each mould and freeze. To finish, pour out the coconut mousse and freeze for the final assembly.
Coat the half-sphere mould and the main mango coconut piece with neutral glaze. Submerge the main piece in chocolate and quickly coat it in coconut.
Decorate to taste.