By 2025, we will be carbon and forest positive.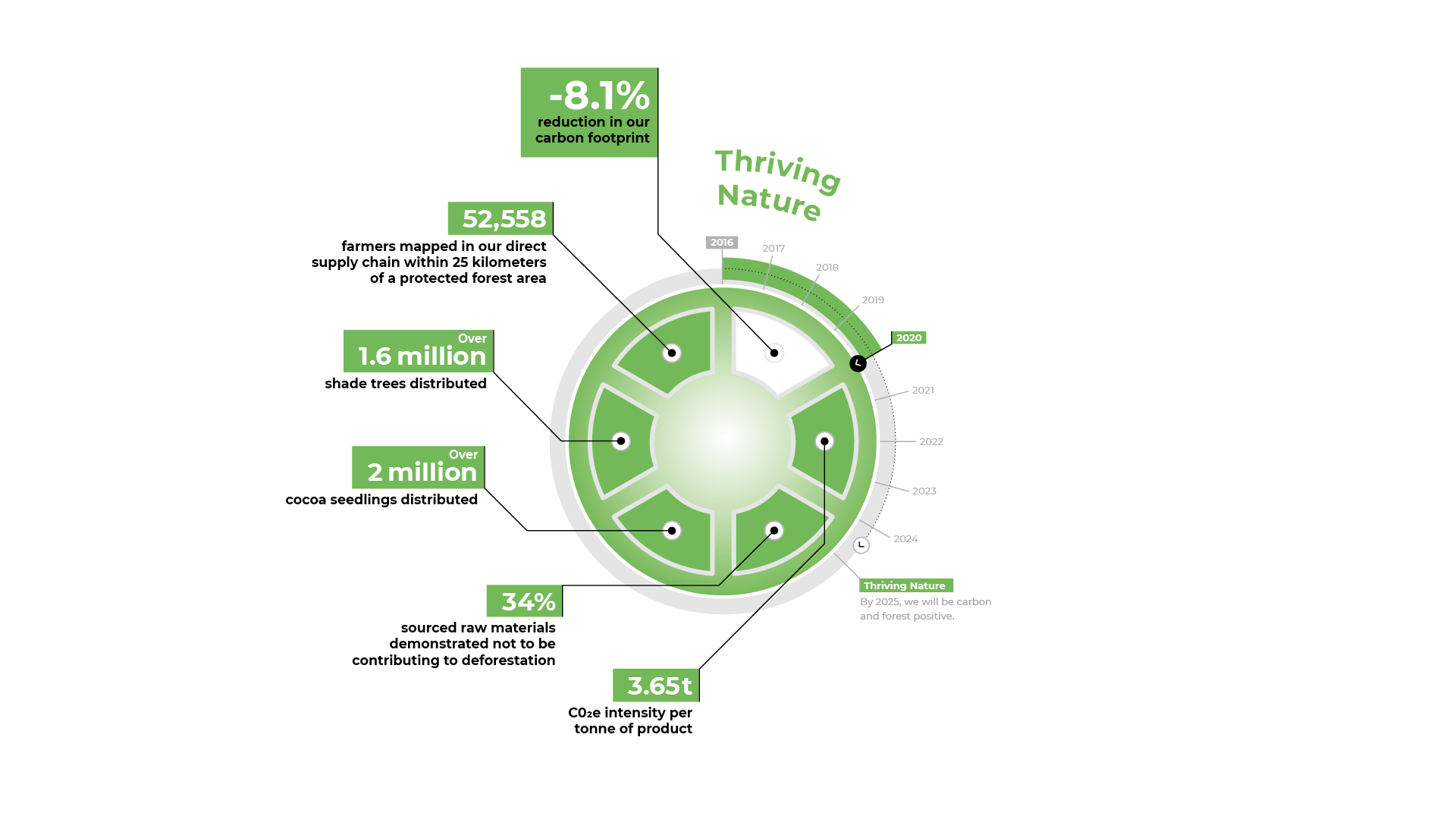 Climate change can have severe impacts on agricultural regions. Droughts mean farmers can no longer rely on crucial rainfall, while deforestation leads to soil degradation. To ensure the stability of ecosystems, the chocolate industry must commit to reducing its carbon footprint and achieve a deforestation-free supply chain.
In 2019/20, we successfully reduced our carbon footprint as well as led the testing and implementation of innovative industry-wide carbon reduction methods.  
To reduce our carbon footprint, we assess the carbon impact created by our own operations (scope 1), the impact generated by the energy we use (scope 2), as well as the impact of our entire supply chain (scope 3). Within our scope 3 emissions, land-use-change (LUC) forms the biggest part of our carbon liability.
In order to accurately account for the amount of LUC in our supply chain, meaning the carbon emissions resulting from the transformation of forest land to agricultural land, we partnered with the renowned environmental sustainability consultancy, Quantis. Together we developed the first carbon footprint assessment tool for cocoa farming. The assessment focuses at farm level to evaluate the impacts of land-use change and deforestation driven by cocoa cultivation.
Through the combination of GPS, satellite imagery and farm-level data, this new assessment enables us to gain a better understanding of the contribution of each farm or cooperative that we source from to our direct land use change emissions. We are extremely proud that this assessment is now publicly available for the cocoa and chocolate industry to use.
In addition, in order to capture the carbon benefits from the interventions in our  supply chain, as well as our aim to pass on the benefits to our suppliers and customers, we have been collaborating with the Gold Standard Foundation and other strategic partners since 2018/19. We were the first company to pilot the Value Chain Interventions Guidance and develop a methodology for its implementation of carbon sequestration from value chain interventions (scope 3).
Following this work, we built up a portfolio of supply chain interventions to be implemented in the major cocoa-growing countries, to be independently certified annually by the Gold Standard Value Change Programme. Our interventions included the planting of 1.6 million non-cocoa trees on farms and in non-agricultural areas surrounding farming communities, to promote agroforestry systems and increase biodiversity as well as carbon sequestration. On top of these carbon removal interventions, we are also implementing carbon reduction projects related to the distribution of cookstoves and solar home systems to cocoa farming communities. These interventions add to the overall reduction of carbon emissions in the third tier. This year, we distributed 5,275 cookstoves.
Another great stride we made in our innovative approach to reduce our carbon footprint concerned the piloting of our Biochar project. Partnering with Circular Carbon, we are assessing Biochar, a material produced by transforming cocoa shells and other cocoa by-products into green energy for use in our factories. This year, we ramped up the infrastructure for producing Biochar in one of our European factories. We are also collaborating with the University of Reading and the Ithaka Institute for Carbon Intelligence to investigate the possibility of extending the use of Biochar as a fertilizer to our Farm Services business to improve soil quality while also serving as a permanent carbon sink or in-ground storage of carbon.  

As to our own operations, 23 of our 61 processing plants are now fully powered by renewable energy. 
Forest Positive
In order to become forest positive, we continue with our efforts to eliminate deforestation from our supply chain. To achieve greater transparency and traceability in our cocoa supply chain, we publicly disclosed our direct cocoa suppliers in Côte d'Ivoire, Ghana and Cameroon. We will continue to update this map as part of our continuing progression towards a more transparent supply chain.

In 2017, we signed the Cocoa and Forests Initiative (CFI), a multi-stakeholder initiative dedicated to ending cocoa-farming-induced deforestation in Ghana and Côte d'Ivoire. In 2019/20, in line with this commitment, we continued to map cocoa farms in our direct supply chain within 25 kilometers of a protected forest area in both countries. Our mapping has been extended to also include farms located in Cameroon. This year, we mapped 52,558 (+11%) farms in our direct supply chain located within 25 kilometers of a protected forest area. As a result, we have established traceability to farm level for the cocoa volumes coming from these mapped farms. 
 
We are also working in parallel on driving large scale reforestation efforts to mitigate the impacts of climate change. Forest restoration aims to bring back the ecosphere of a forest, such as water and soil quality and native plant species. Therefore, in 2019/20 we commenced a large-scale ecosystem restoration project in Côte d'Ivoire. As part of this project we have partnered with Land Life Company, a technology-driven reforestation company to pilot the utilization of innovative seedling generation, planting and monitoring in harsh conditions. 
Through this activity, we support knowledge transfer to local communities and the creation of new employment opportunities. In the next fiscal year, we will continue with the pilot to identify the requirements needed for scaling up the initiative, by jointly investigating new opportunities in drone and artificial intelligence technology for monitoring and seeding purposes.
Our measured impact
Our carbon reduction efforts have resulted in a decrease of –8.1% of our corporate carbon footprint, from 8.49 million tonnes to 7.8 million tonnes CO2 equivalents (CO2e), in fiscal year 2019/20. The main drivers of this achievement are reduced CO2e emissions from land use change, reduced CO2e intensity in factories and the reduced CO2e intensity in dairy products.
Our carbon intensity decreased from 3.92 to 3.73 CO2e per tonne of product. Including the additional contributions from scope 3 insetting projects as assured by the Gold Standard Foundation, our carbon intensity was further brought down to 3.65 CO2e per tonne of product. This is a decrease of –6.89% compared to the previous fiscal year. The percentage of sourced raw materials demonstrated not to be contributing to deforestation was 34%.